Last weekend, I got to enjoy a little of Malta right here in Tampa.
As a bit of a lark during our visit last March, I picked up a bottle of Maltese wine (Marsovin's Verdala Rose @ 6 Euro) at a touristy gift shop in the city of Mdina (photo below — the gift shop is located on the side of the building with black shutters).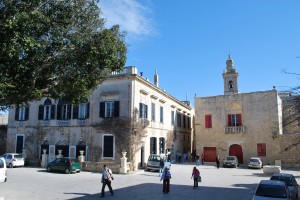 The winemaker crafted the bottle from something of an unusual collection of locally grown grapes (Shiraz, Grenache, Gellewza, and Sangiovese). Most of these varietals grow throughout the winemaking world. Gellewza, however, is rather uncommon.
Gellewza seems to be an indigenous grape to Malta and described by some as being of the low quality/high quantity sort. Yet, it represents something that is truly Maltese. For that, I cherish it… almost as much I enjoyed being able to share the bottle with a couple of our close friends, Dick and Frank. After all, it's one thing to drink a wine from some exotic place in the world; it's entirely another to go there, pick it up, transport it home, and share it with friends.
Travel is all about having experiences. Thus, sharing this new experience with our friends provided an opportunity to travel back to Malta in a small way with them.
Good times.
For the record: the wine was a solidly decent, dry rose. I'm only sorry that I didn't know about or find a bottle of Cheval Franc: a Maltese wine made from 100% of my most beloved varietal, Cabernet Franc. Good reason to return to Malta.