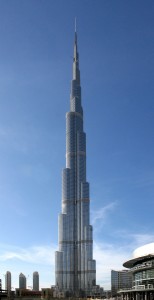 Source: Wikipedia
We're thinking about visiting Dubai in 2011 on a 7-night cruise on Royal Caribbean. I don't actually think that we'll especially like Dubai. Yet, I've been feeling pulled towards it more and more over the past few months. Like the cruise we have planned for this summer, it's a practical way to leave the baby for a short period of time but hit a lot of new countries (note: the TCC guidelines count each emirate as a separate one).
However, my interest extends beyond mere "country count" greed.
No, I think Dubai is an interesting symbol of the last decade. It's a sort of microcosm of what went on in the United States, especially in my home state of Florida.
First came the boom with no end in sight.
Then the bubble burst.
Next ensued a financial crisis and bailout.
Earlier this week, Dubai celebrated the opening of the Burj Khalifa – the world's tallest skyscraper at 2,717 ft. While some have applauded Dubai's vision, most have likened it to a modern-day Tower of Babel. Which view is right? Only time will tell.
Yet, I believe this moment marks either a new dawn or fall of night for Dubai.
Either way, I want to check it out.