After a short sail from San Juan, we arrived early in St. Thomas to a beautiful day. Here's a view from our balcony this morning: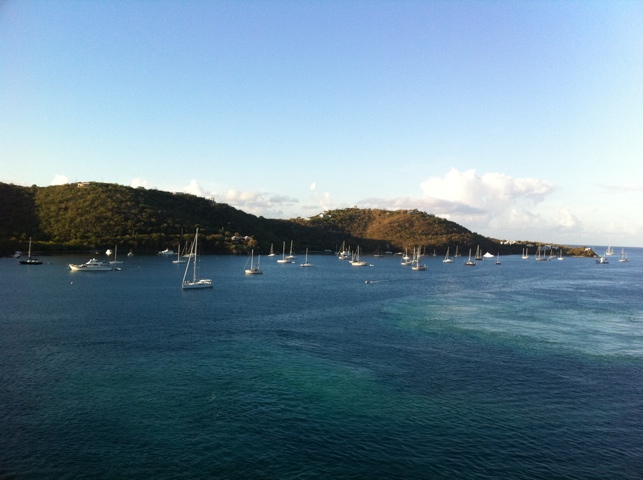 We started the morning with specialty coffees, which we enjoyed out on our balcony. We then proceeded into town via a short, cheap ($4/pp.) taxi ride. Princess docks well outside of Charlotte Amalie at Crown Bay. It's not the most convenient, but it's perfectly workable.
We arrived in downtown around 10am. Charlotte Amalie sits on a picturesque bay. Two other ships were in port with us: Carnival Victory and Celebrity Equinox. The town has few sights but a lot of duty free shopping. Indeed, it's something of a Mecca for jewelry shopping. I have to say though, neither of us were blown away by the duty free "deals." Since I have Internet access, I did a little real-time price comparisons on two items. At the lower end of the market, I found a Seiko watch ($170 in St. Thomas) online for $160. At the high end of the market, I priced out a $20,000 Bregeut watch (which I tried on!) at the same rate in St. Thomas as online. We found a similar pattern in women's jewelry. Bottom line: while the prices in St. Thomas are good, they seem to be far from extraordinary relative to US market prices (regardless of the deep discount from MSRP / list prices).
All in all, we spent about four hours wandering around the city. We returned to the ship at 2pm for a light snack before our balcony dining tonight. We spent the rest of the afternoon lounging about just watching the world go by. The view from our cabin is wonderful (as noted above) and made for a nice backdrop to a leisurely afternoon.
Tonight was formal night, which we skipped. Instead, we did "Ultimate Balcony Dining" with an emphasis on ULTIMATE. Where to start? Setup began at 6:10… table, linens, stemware, LED "candle," rose bouquet, water pitchers, ice buckets, oh my!
After all was setup, the photographer arrived to take a series of sunset pictures with us (the dinner includes an 8×10 photo). We were then served our cocktails (strawberry daiquiri and mojito respectively) and a selection of canapés (shrimp, salmon, two kinds of caviar, ham, etc.). Next, we had wonderful blue crab cakes with a mustard cream sauce served in a puff pastry crown. This was followed by a mesclun salad with marinated cherve, olives, and walnuts dressed with an aged balsamic vinaigrette.
For our main, we opted for the surf 'n turf: a very generously sized grilled filet of beef tenderloin and two broiled lobster tails… for each of us! All of this was washed down with the included bottle of sparkling wine.
We ended with the Princess Chocolate Symphony: a series of dark, Swiss, milk, and white chocolate mouse quenelles served with fresh berries in a white chocolate cup. In addition, they served us wonderful coffees and an entire plate full of friandises!
By the end of the meal, we were moaning out in gastronomic joy like two actors trying out for Bill Murray's role in a sequel to the "What About Bob?" dinner scene. The service, provided by Jaime and Manny (both seasoned, veteran waiters), was utterly flawless and simply enjoyable. The cost of this experience? $100 per couple. The value of the experience? priceless! This was just a magical meal and an utterly memorable experience–one of the all-time greats aboard any cruise ship!
Here's a photo of the table setup: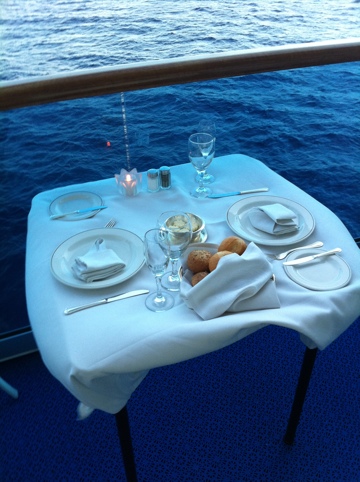 Today's box score: +1 "country" (USVI)