Since today has a later arrival in port (noon), we opted to have an early breakfast in the main dining room. Overall, the food was fine but unremarkable. I did have my first "bad" dish on Princess: my ham and cheese omelette was, well, basically inedible — I'm not sure if it was over-cooked or made with some sort of weird egg substitute… but it was rather dry and grainy in texture. Oh well.
I attended the "Welcome to the Captain's Circle" lecture, which was mildly informative. Libby participated in the "On Deck for the Cure" walkathon to fight breast cancer (sadly, only one other passenger participated). But, she did get hats for us and pink balloons for the cabin.

I attempted to go use the golf simulator, but it was sadly closed for a putting competition (also without participants). So, I went to the casino and wasn't an hour (and $10) playing the $0.02 slot machines. Meanwhile, Libby was on deck somewhere reading.
We arrived in Bonaire around noon. We spent a couple of hours wandering about the town. A surprising number of businesses were closed. Bonaire's a small island with relatively few residents (about 13,000). And, I suspect that we're now a bit passed the tourist season… so the island seemed very sleepy. I'd recommend diving or a beach day (if you're into either of those things).
After another leisurely day, we had dinner (or any meal) for the first time in the Lido buffet, Cafe Caribe / Horizon Court. The selection at dinner was limited, but the food was good (for a buffet) and the service excellent (indeed the number of servers seemed to outpace patrons–and all were busy doing something).
After dinner, we returned to our cabin. We stepped out onto the balcony and discovered… "naked lady"… again… two decks down. You see, the Caribbean Princess have some decks with sun exposed balconies. As such, these balconies aren't even remotely private to those above them. "Naked Lady" seems not to care… she was out there, full monty style, in front of us, the Captain (Bridge directly above), God, and everyone else. Moreover, since this wasn't just the topless sunbathing Libby witnessed a few days ago, I feel compelled to issue this public service announcement: if you're on a Princess ship, staying in a balcony on the 9th or 10th deck, look up! If there's no roof, ask yourself two questions: do I want people to see me naked? would people want to me naked? If either answer is "no," keep your clothing on!
I'm finishing up writing this entry from the Lido deck, while sipping a Long Island Iced Tea ($2.99 — Power Hour Special), munching popcorn, and watching "The Tourist" on the Princess Movies Under the Stars big screen. Cool, yes?
See for yourself…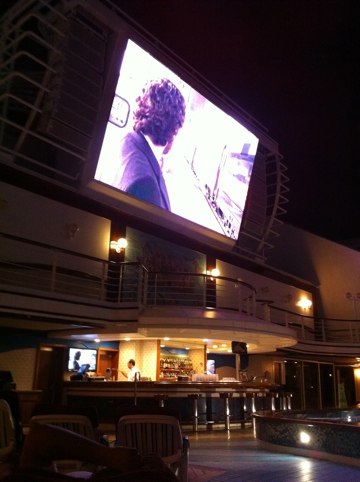 Today's box score: +1 country (Bonaire)