We arrived in San Juan a little early and since we had no checked luggage, we zipped out of the airport and to our hotel in Old San Juan.
We're staying at the Cervantes. It was well received on TripAdvisor, located in an ideal spot, and available at a great rate. Overall, we like the hotel. Our room is modest in size, but seemingly recently refurbished and in good condition. Our only complaint — the air conditioning is too good and centrally managed. As a result, we're freezing in the tropics! Yes, that's right. I've actually found a place too cold even for me.
After checking into the hotel and having a brief snack around the corner, we went out exploring Old San Juan. We walked for about four hours. We visited San Jose Church (2nd oldest in the Western Hemisphere), El Morro (as well as San Cristobal) fort, watched the locals fly kites in the winds coming off the ocean, spent a little time popping in and out of shops / galleries, and strolled along the city walls. All in all, Old San Juan is high on the Caribbean sightseeing hit parade. It feels a little like a smaller-scale Buenos Aires or Montevideo. Nice!
We returned to our hotel, freshened up, and discussed options for dinner. Most of Old San Juan's highest rated dining venues are within a block or two of our hotel… so, we had plenty of choices. We ultimately settled on Toro Salao, a tapas bar. We sat outside and ordered a refreshing, small pitcher of rose sangria. We ate plates of a warm and creamy crab and artichoke dip, roasted potatoes, and mahi mahi fritters w/ caramelized onions and a garlic/lemon aioli. All were good to very good. We then turned our attention to a sweet ending. Wow! I ordered cinnamon dusted churros w/ chocolate, nuts, and a homemade ice-cream (tasted like butter pecan). Excellent! Libby order a hot chocolate cake topped with vanilla ice cream, sour cherries, and candied orange zest. Her cake was "hot" in two ways: it was warm with a gooey center and it had a slight hint of cayenne pepper. It was, without a doubt, one of our all-time favorite desserts!
After our leisurely al fresco dinner, we returned to our freezer, err hotel room, and retired early.
Here's a photo of one of the art galleries we visited: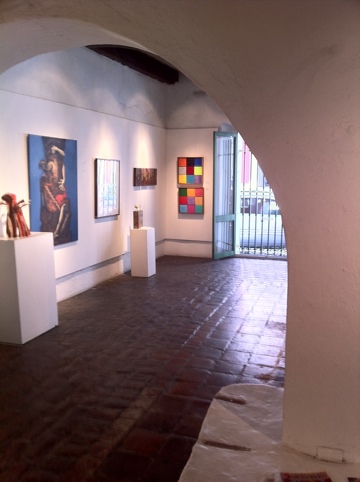 Today's box score: +1 "country" (Puerto Rico)