We arrived in Abu Dhabi a little before 8am this morning. We headed out almost immediately for a visit to the Sheik Zayed bin Sultan al-Nahyan Mosque, generally known more simply at the Sheik Zayed or Grand Mosque. It is named for the late Sheik Zayed, the much beloved 'father' of the UAE, who's buried on the site of the mosque in a surprisingly modest grave and for whom the Quran is read 24/7/365 by attendants.
The Grand Mosque is epic in its scale, capable of holding 40,000 worshipers. Covered in gleaming white marble, it is topped with 80 gold gilded domes, decorated with intricate floral motifs made from semi-precious stones, and illuminated by massive (9 ton!) crystal chandeliers. The mosque also houses to the world's largest Persian carpet (which required the skilled labor of 2,000 craftsmen for two years to complete).
After the mosque, we traveled along Abu Dhabi's seaside corniche, past the impressive Emirates Palace (which is actually a luxury hotel) and to the Marina Mall (home to nearly 400 retail stores… hence Libby's other religious experience for the day). 😉
Although the UAE's largest and wealthiest emirate, Abu Dhabi currently feels a little like 'Dubai-lite' to me. As with the rest of the emirates only 50 years ago, Abu Dahbi was little more than a small fishing and pearling village. The discovery of 'black gold' in 1958 brought wealth and development, as evidenced by a number modest downtown high-rises of 1960's/70's style architecture (not an especially high point aesthetically, reminding me of the 'Brutalism' found at home on the University of South Florida's earliest buildings from that same period). However, Abu Dhabi's skyline continues to evolve with newer, grander, and more magnificent designs seemingly sprouting up on every street corner. Most excitingly, Abu Dhabi seeks to become a cultural—rather than just commercial leader—with outposts of the Guggenheim and Louvre among five new world-class museums and performing art centers now under construction.
I look forward to returning to Abu Dhabi in the future, as I suspect that we'll eventually grow to prefer it to Dubai.
Tonight, we returned to Chops Grille for dinner. Standouts this evening were my appetizer (Asian-style spicy tuna—raw, finely diced; perfectly garnished on sesame points) and Libby's dessert (a decadent and upscale take on Mississippi Mud Pie).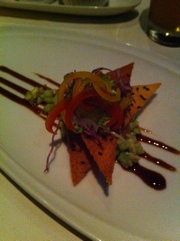 After dinner, we went to a headliner show featuring soul music. The performer really worked hard, had a decent enough voice, and good stage presence. But, honestly, he struggled to have this audience (with—literally—a boatload of various European nationalities) 'get' his show.
Tomorrow, we return to Dubai for an overnight visit before disembarking. Then, it's off to the airport to pick-up the rental car and away to the four remaining emirates we go!
Today's box score: +1 country (Abu Dhabi, UAE)