We left our hotel around 9am in order to catch our 10am ferry to Macau. I'd strategically picked our hotel due to its proximity to the Macau Ferry Terminal. This enabled us to get there, collect our tickets, pass through immigration control for departures, and be ready to board quickly. In fact, we did all of this in about ten minutes. As a result, the TurboJET representative in the SuperClass lounge (I'd booked premium tickets) invited us to board the 9:15 ferry to Macau instead. Thus, we found ourselves arriving in Macau 15 minutes after our planned departure time. Nice!
The ferry trip itself was pleasant and uneventful. In SuperClass, you're offered an included meal and drinks. In addition, you'll find the seats are more spacious, you can bring aboard more hand luggage, and you get priority embarkation and disembarkation. For the extra $20(USD) per person, I think it's worth it.
Once at Macau, we passed through immigration and customs with alacrity. We then found the Wynn's courtesy desk, which directed us to the hotel's free shuttle bus. A few moments later, we were at the hotel and checking into our room (which wasn't yet ready due to the relatively early hour). So, we dropped off our baggage and ambled around the local vicinity before having lunch at the Wynn. For lunch, we ate at "Red 8," which specializes in dim sum and was excellent. Yes, this was the Chinese food experience we'd been looking for: steamed barbecue pork buns, potstickers, pan-fried pumpkin cakes, pork rice rolls, etc. Delicious!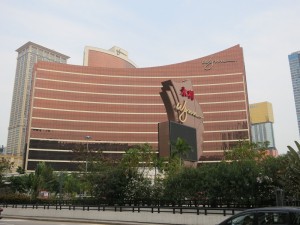 After lunch, we got our room key and dropped off our stuff. We're up on the 14th floor in a spacious room overlooking the hotel's petite Bellagio-style fountain, downtown Macau, and the bridges to the outlying islands. It's pretty swank digs, but it's suitable for this upscale hotel. That said, the best part of the Wynn Macau (and the reason I picked it) is its proximity to the city's historical center, which is a UNESCO World Heritage site. Within a 15 minute walk of our hotel, you can find yourself standing in a square that looks like Lisbon… or at least China town in Lisbon (assuming it even has such a thing).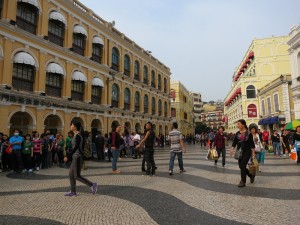 Macau's just a fascinating place. It's unlike any place we've ever been. No. Let me correct that comment. It's actually like some places we've been… only we've never seen those individual elements mixed together in this way. What do I mean by that? The historic city center (which is very attractive) and the surrounding hodgepodge of urban buildings (which is not so much) remind us a lot of Buenos Aries. Of course, Macau has a Portuguese—not Spanish—heritage. Thus, you have to stir in a healthy dose of Lisbon. On top of this, you basically have Las Vegas grafted on to the city with many of the same hotel/casino resorts (our Wynn, plus outposts of the MGM Grand, Venetian, Sands, and Hard Rock to name a few). Yet, all of this exists in China, and the city is chockablock with people from Hong Kong and (most prominently) mainland China looking for a good time. In fact, the irony of watching "communist" Chinese mainlanders play the part of degenerate gamblers and luxury shopaholics isn't lost on us. Indeed, given the seeming wealth of our fellow vacationers, I'm starting to wonder if the phrase 'capitalist dog' hasn't taken on a whole new meaning?

Today's box score: +1 country (Macau)