We arrived at Heathrow about an hour later than scheduled due to a takeoff delay in NY-JFK. The line for customs was also a little lengthy, though we were fortunately invited to skip to the 'special assistance' queue thanks to Emerson still having a stroller. Our driver from Hyde Park Cars awaited us and drove into central London via a seemingly circuitous route, but it had the advantage of taking us through parts of London that I'd previously never seen (such as Shepherd's Bush).
Julie greeted us upon arrival at the Allen House, remarking on how Emerson had grown. They'd had a problem with our planned apartment (someone had smoked in it), but Julie fixed it by upgrading us to a two bedroom on the upper floor. If we lived in London, this flat would be ideal for our small family. Of course, it would probably also cost well north of a million pounds… heck maybe two given the location.
I promised Emerson that she could go see "Dippy" and her other dinosaur friends at the Natural History Museum as soon as we got to London. So, that's what we did.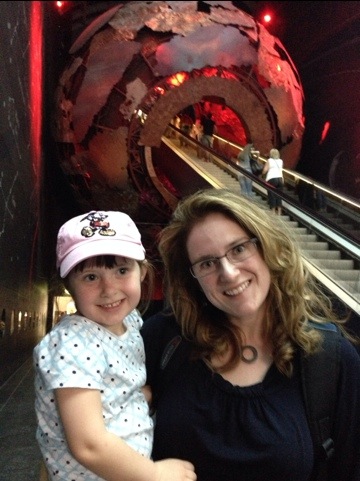 En route we checked out what's new, improved, and removed on High Street Ken — most notable closure was the Pizza Hut at the corner of Kensington Church Street, but there are a number of promising restaurants added to the arcade near the Underground station.
After visiting the museum and having a late lunch / early dinner, we headed back to the Allen House via Kensington's spectacular Whole Foods. Oh, how we love this grocery store with its amazing selection and exceptional food halls / dining options. If the Fresh Markets or Whole Foods in Tampa were this awesome, I'd sell our house to move next door to one of them. Seriously.
Despite all of us getting much less sleep than usual, we managed to avoid jet lag into the evening and went to bed at a reasonable hour.
It's so good to be back in London!