We awoke at 3:30 this morning in order to leave by 5:00 for Gatwick Airport. Check-in for the flight was very smooth, as was our passing through security. We boarded on time, but the flight left about 20 minutes late due to "staffing issues" at Gatwick.
Jersey is the blue dot: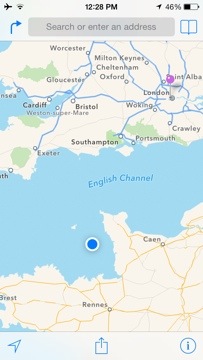 This may have been the briefest commercial flight that I've ever taken. Cruising altitude was a mere 16,000 feet, and I think we were in the air only about 35 minutes. Unsurprisingly, the airport in Jersey is fairly modest in size… though not as small as I might have expected.
We took a taxi into St. Helier and arrived at the Radisson Blu by 10am. Being so early, we were unable to check into our room, but we dropped off our luggage and went out to explore the town.
Aside from booking flights/hotels and knowing that we also needed to get to Guernsey, I'd done absolutely no other preparation for Jersey. Indeed, we arrived with a complete lack of expectations… much like our visit to Malta a few years ago. As it happens, tourism isn't all that big in Jersey (as cheap flights to Spain and Portugal have made it less popular with the Brits looking for sun and we've not encountered any other Americans yet). In fact, Jersey is most known and used as a center of offshore banking, as well as a tax haven. Yet, St. Helier is charming, relatively affordable, and feels more "authentic" than "touristy."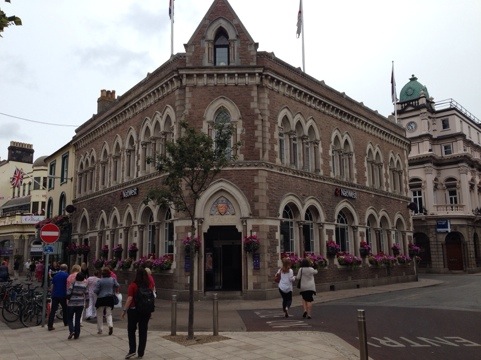 We happily passed a few hours strolling through the downtown and shops. We ate lunch out and bought Emerson some local ice cream (made from Jersey cow milk). We also booked a day trip for tomorrow to Sark, which is a small island that's part of the Bailiwick of Guernsey. It came highly recommended by the travel agent, who touted its beauty and remoteness (as well as its lack of automobiles).
After picking up some foodstuffs for tomorrow's journey, we returned to our hotel to give Emerson a late afternoon nap. We then played for a while before going out to dinner at the Seafish Cafe, which we'd spotted earlier in the day. It turned out to be an excellent choice as an "upscale" fish and chips shop. Libby had a delectable fish sandwich. I ate the scampi (shrimp) platter, and Emerson had chicken and chips. We also enjoyed a dish of the most delectable garden peas, as well as some onion rings.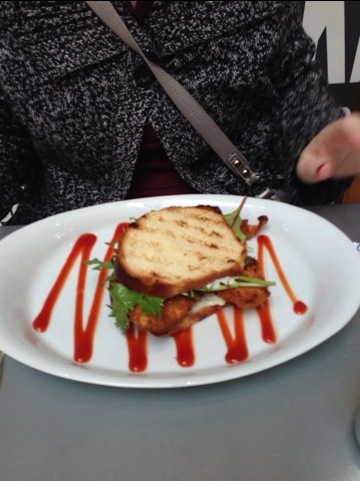 After dinner, we walked across to the marina and looked at the boats while strolling out toward Elizabeth Castle, which is found on an island (reminiscent of Mt St. Michel on a more petit scale).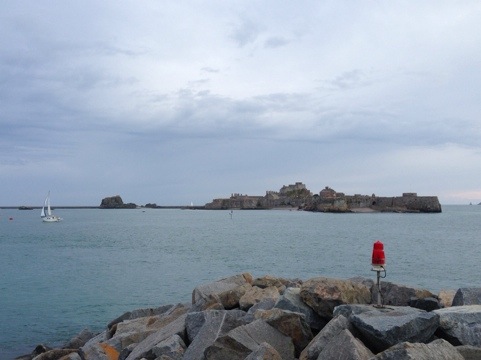 This was a good day; so far, we're very happy to have traveled to the Channel Islands. But, tomorrow Sark could be a total bust…
Today's box score: +1 "country" (Jersey, Channel Islands)