Well, our departure from Orlando wasn't as seamless as I'd hoped. While we were boarding the plane, thunderstorms swallowed the airport. As a result of the lightning, the airport authorities "closed the ramp" for ground staff, thereby effectively ceasing all aircraft preparation movement. Worse, unlike typical Florida thunderstorms that quickly move in and then out, this storm remained over the airport for a couple of hours.
All told, we say on the plane for about 3 hours after our scheduled departure time before finally taking off for London. So, we flew to London–on what turned out to be kind of a tired and less than comfortable plane filled with lower class and obnoxious Brits returning from their Disney holiday–fretting over our abbreviated layover. You see, I'd purchased two roundtrip tickets for us: a pair of roundtrip flights between Orlando/London on Virgin Atlantic and another between London/Istanbul on Turkish Arlines.
So what? I've done this to great effect in prior years. The difference this time was that I "only" had 5 hours between flights, which should have been plenty of time to go through UK border patrol, collect our luggage, go through customs, check-in with the next airline, go through security, and be ready to board the next flight. Now, thanks to the delay in Orlando, my five hour cushion was down to two and neither Virgin nor Turkish had to do anything to help us out should those two hours be insufficient.
Mercifully, we were at London-Gatwick, which is a far less chaotic and more easily navigated airport than London-Heathrow. Immigration, baggage claim, and check-in were all very speedy. So, we ended up with about 30 minutes to spare, which have us just enough time to get breakfast lunch.
We enjoyed our flight aboard a relatively new Turkish Airlines 737-800. The service was much better than aboard a US domestic carrier: from passing out Turkish Delights and serving a multi-course meal to the free adult beverages and cabin stewards heaping Turkish Airlines games and toys on Emerson — all on a low cost, fairly short (3 hour) flight in economy. Thus, I give you Paul's Inverse Law of Airline Service: the more ridiculous the airline seems on first, ignorant blush; the more likely the service is to be actually superior (e.g., Garuda Indonesia).
We were greeted at the airport by the agent for our car service. He promptly whisked us to our Mercedes van for a ride to our hotel on the other side of town in a neighborhood called Sisli at little more than the cost of a taxi for four times the comfort.
Turns out, the Marriott Sisli is also spectacular. Given my status, we were given upgraded rooms overlooking the city and Bosphorous and access to the executive lounge for free meals. More Turkish delights to greet us to: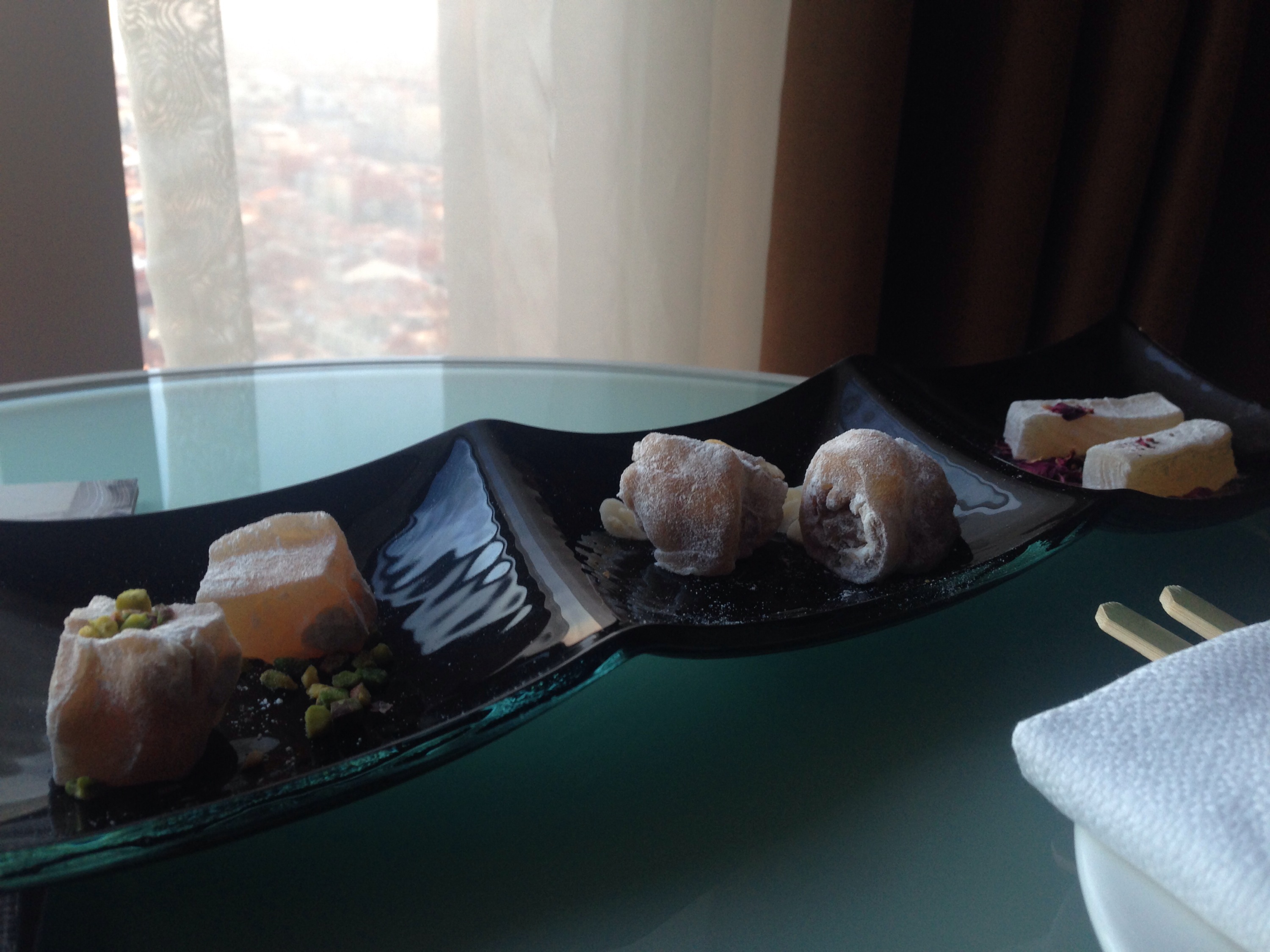 Libby, Emerson, and I ordered (surprisingly affordable) room service before heading to bed. We munched on our food while overlooking the city from our room: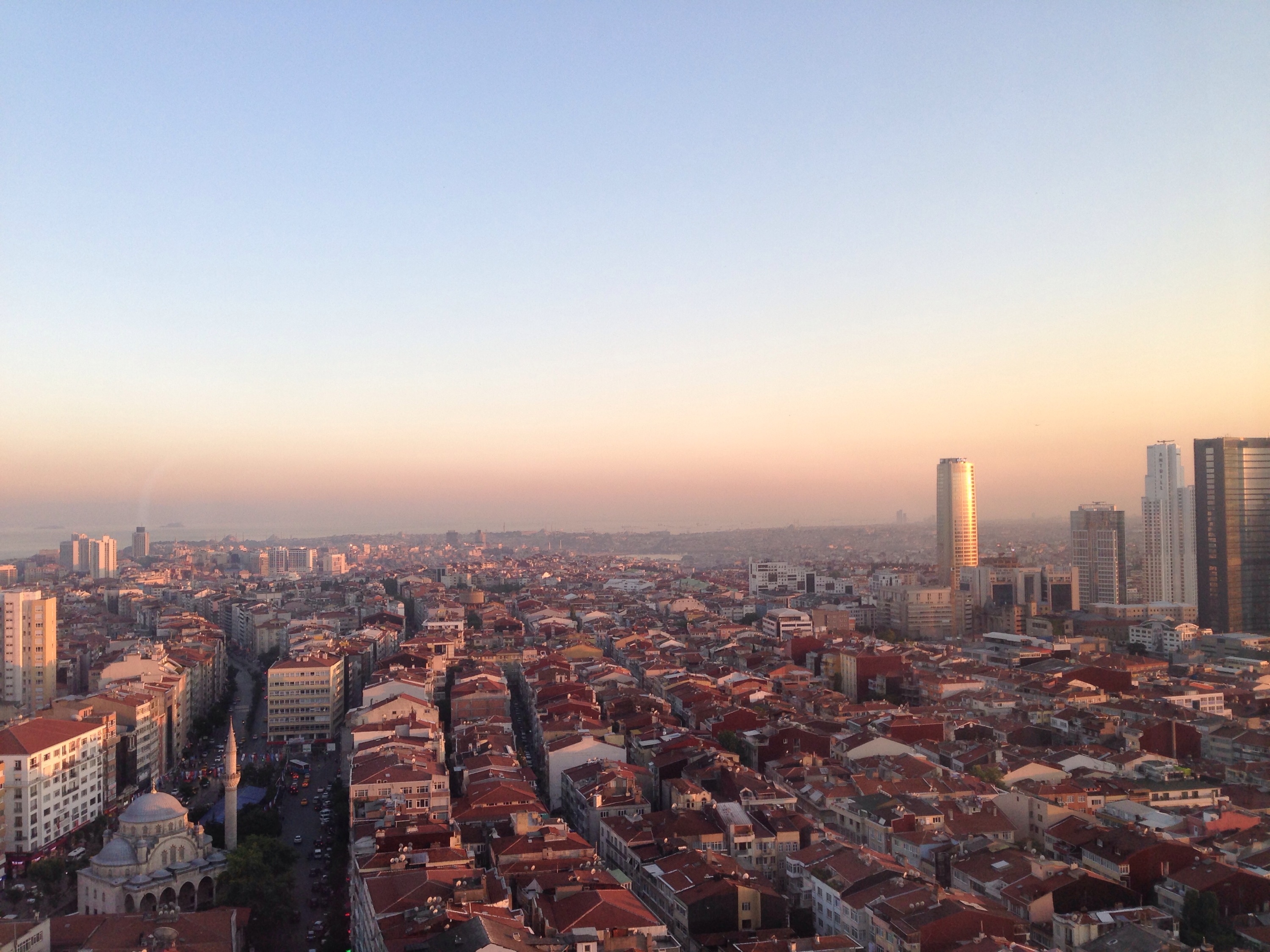 We made it as planned, and found ourselves excited but tired.
Today's box score: +1 country (Turkey, in Europe)