Note: I've updated this post to include a few more images now that I have better Internet access.
We departed the Jackson Lake Lodge around 9am this morning after a leisurely morning of coffee, breakfast, repacking for Yellowstone. I'm using a new system of keeping the large suitcase in the car and living out of a smaller suitcase to carry into hotels. Plus, we needed different clothes anyway due to the cooler mornings (in a tent)!
It's a short and pleasant drive between Grand Teton and Yellowstone NPs up the John D. Rockefeller Jr. Memorial Parkway. Even stopping for photos along the route, we reached the Yellowstone entrance in about half an hour. We started our explorations at the West Thumb Geyser Basin, which features a number of interesting geothermal features on the shore of Yellowstone Lake.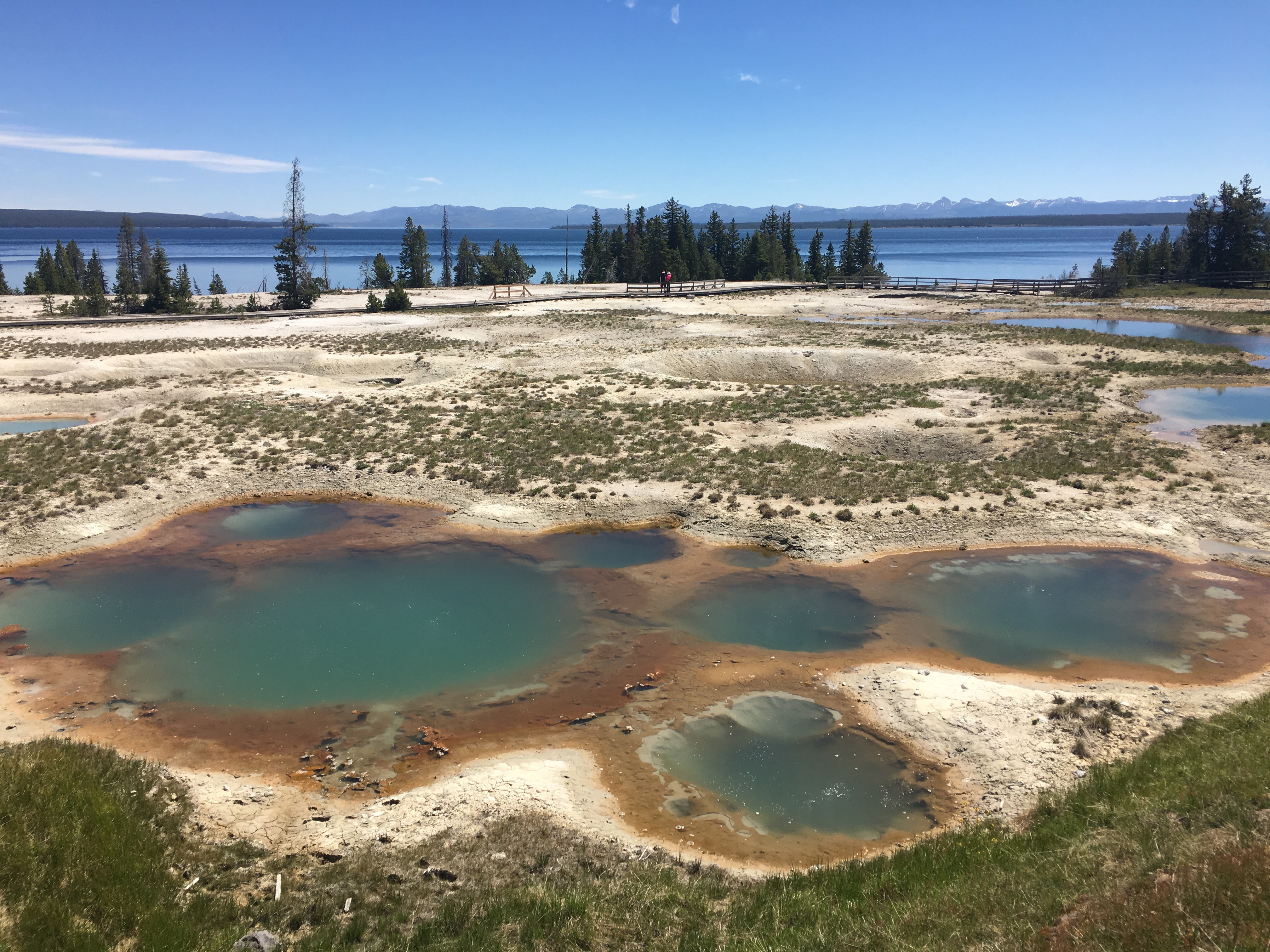 Here we were introduced to Yellowstone's pools, springs, cones, geysers, pots, and more. I must say, having never seen anything like this before, Libby and I were fairly smitten. I don't know this to be true with certainty, but Yellowstone feels like one of those rare, few "singular places" on earth.
From West Thumb, we drove to the Upper Geyser Basin, which includes Old Faithful (and, as we learned, all it entails — for good and bad). In truth, it's kind of a zoo with hordes of tourists. Parking is difficult. Everything is crowded And, ultimately, while Old Faithful is remarkable, it's remarkable in the same way that the Pyramids at Giza or Acropolis in Athens are "remarkable" (or not) to me. Personally, I find the other geothermal features fat more beautiful and interesting… perhaps simply because they're less familiar and thus unexpected to me.
Here's a photo of Old Faithful pre-eruption (I used the SLR for the actual event shots):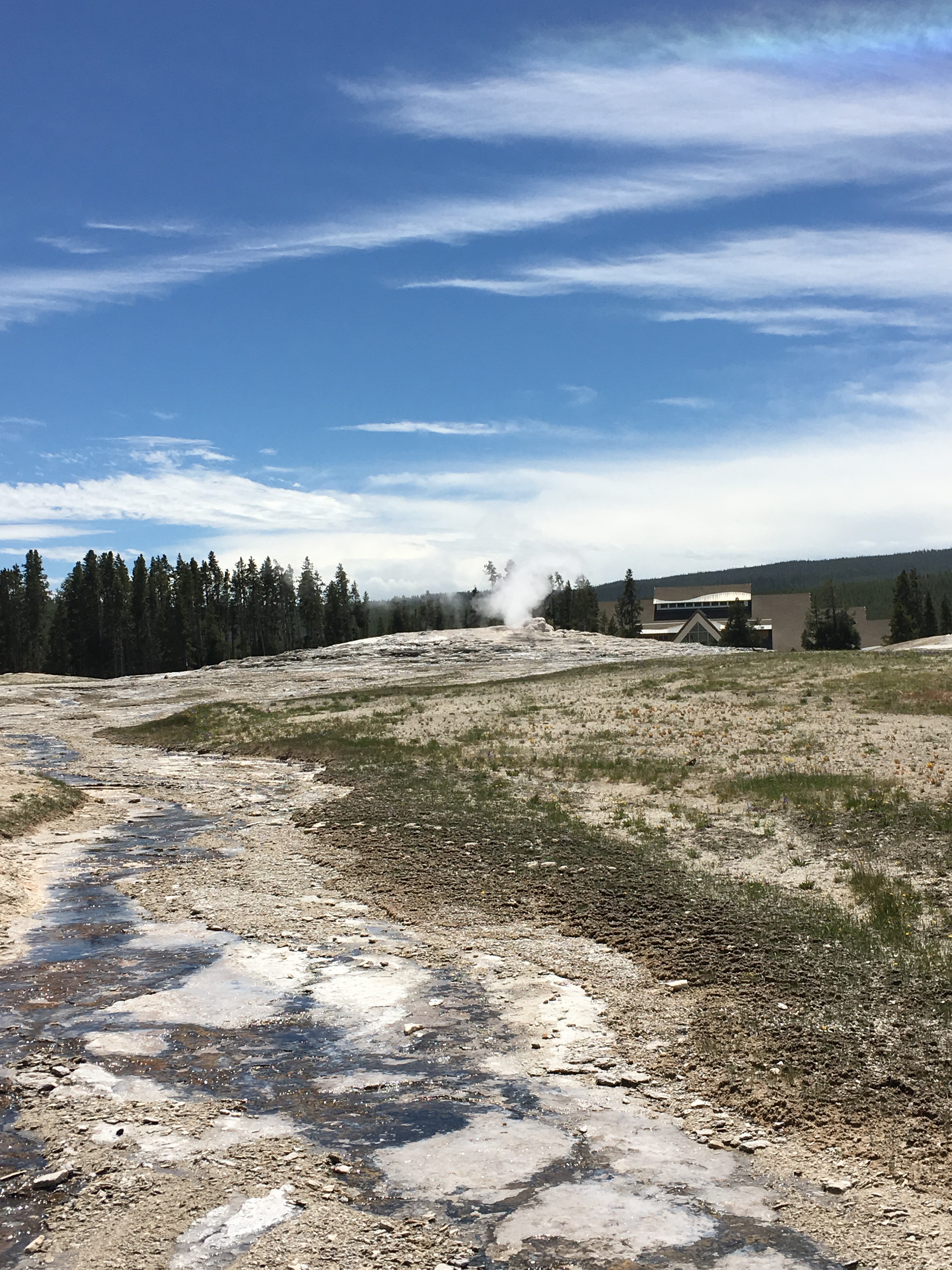 After Old Faithful, we headed up to the Midway Geyset Basin, which is home to Grand Prismatic Spring and Excelsior Geyser. Both of these are spectacular–if potentially deadly–geothermal features. Here's a view of each: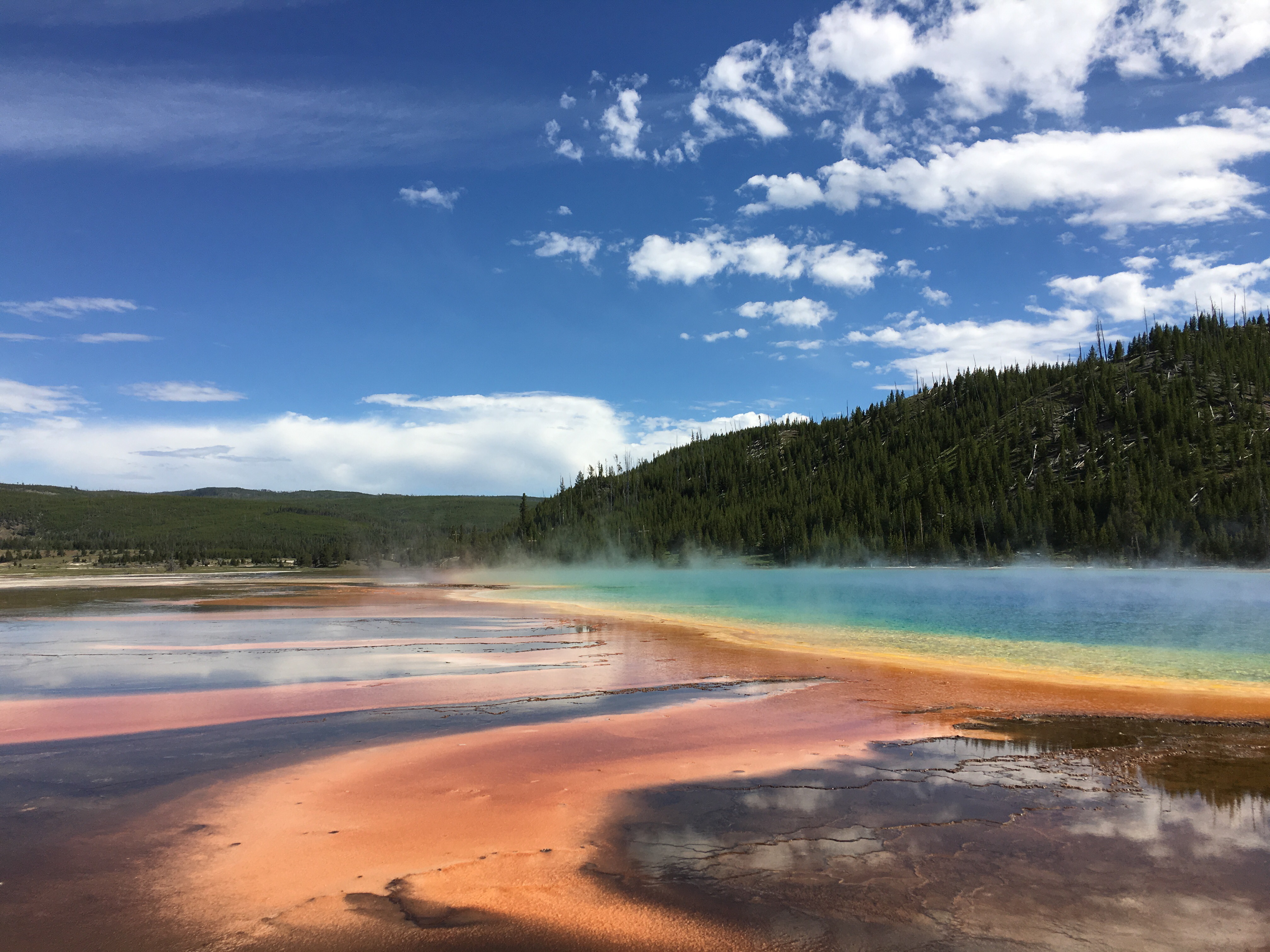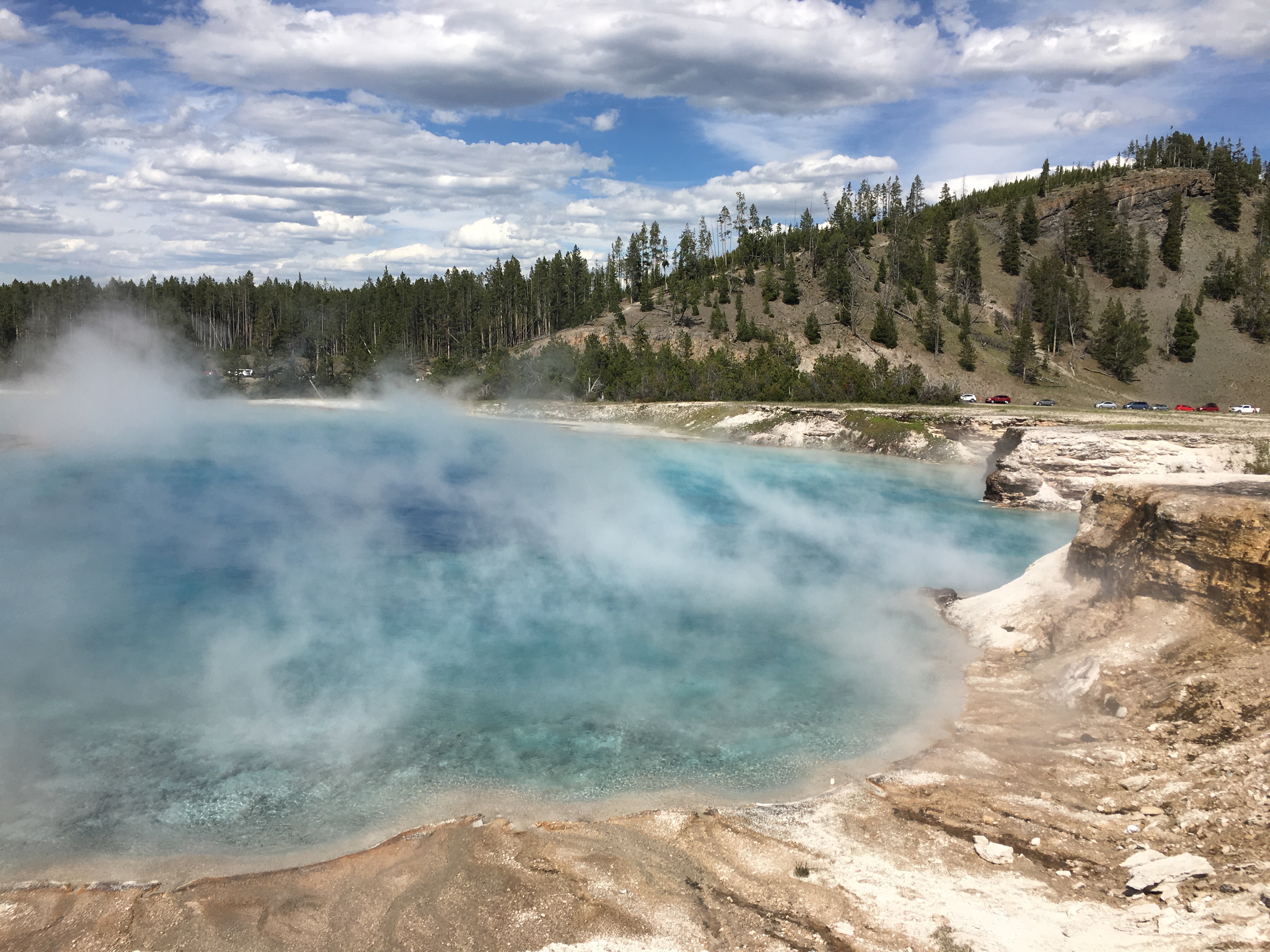 When walking by these features on the boardwalk, we could feel the hot, moist stream blow against our faces. Once out of the steam, the wind and dry, hot weather caused the moisture on our skin to evaporate quickly. This made us feel surprisingly cool almost instantly.
By this time, we were approaching five o'clock and thought it best to drive the 30-45 minutes to our accommodations in West Yellowstone, Montana, a "glamping" (glamorous camping) place called Yellowstone Under Canvas. I must confess: I had my doubts. But, it turns out that this place is awesome (especially if you get a deluxe tent with full en-suite bathroom like we did). Honestly, we prefer this to the Jackson Lake Lodge: it's closer to a wider range of dining options and just feels more like a unique experience (whereas the lodge felt more like an unremarkable motel that was living off of its location).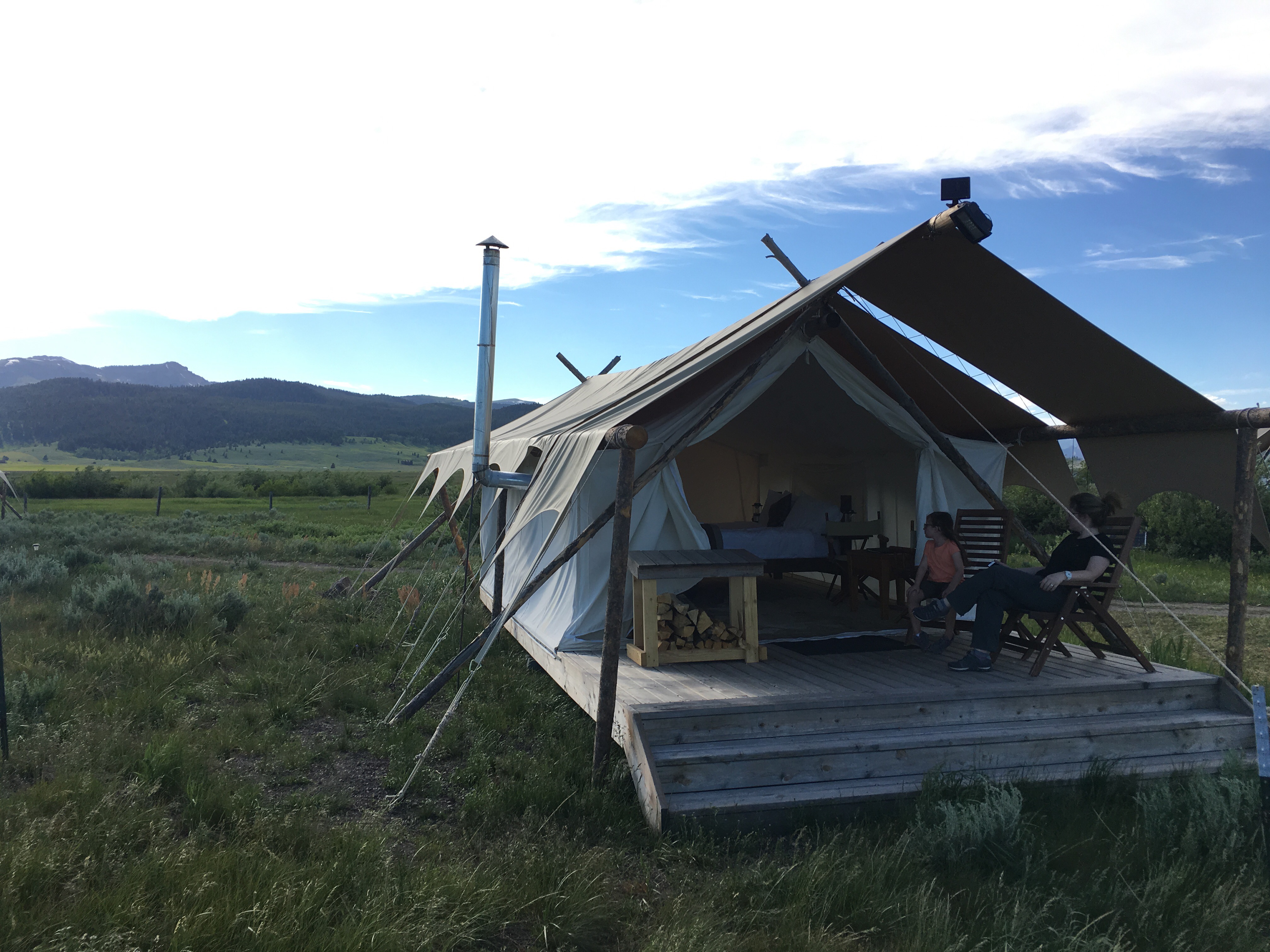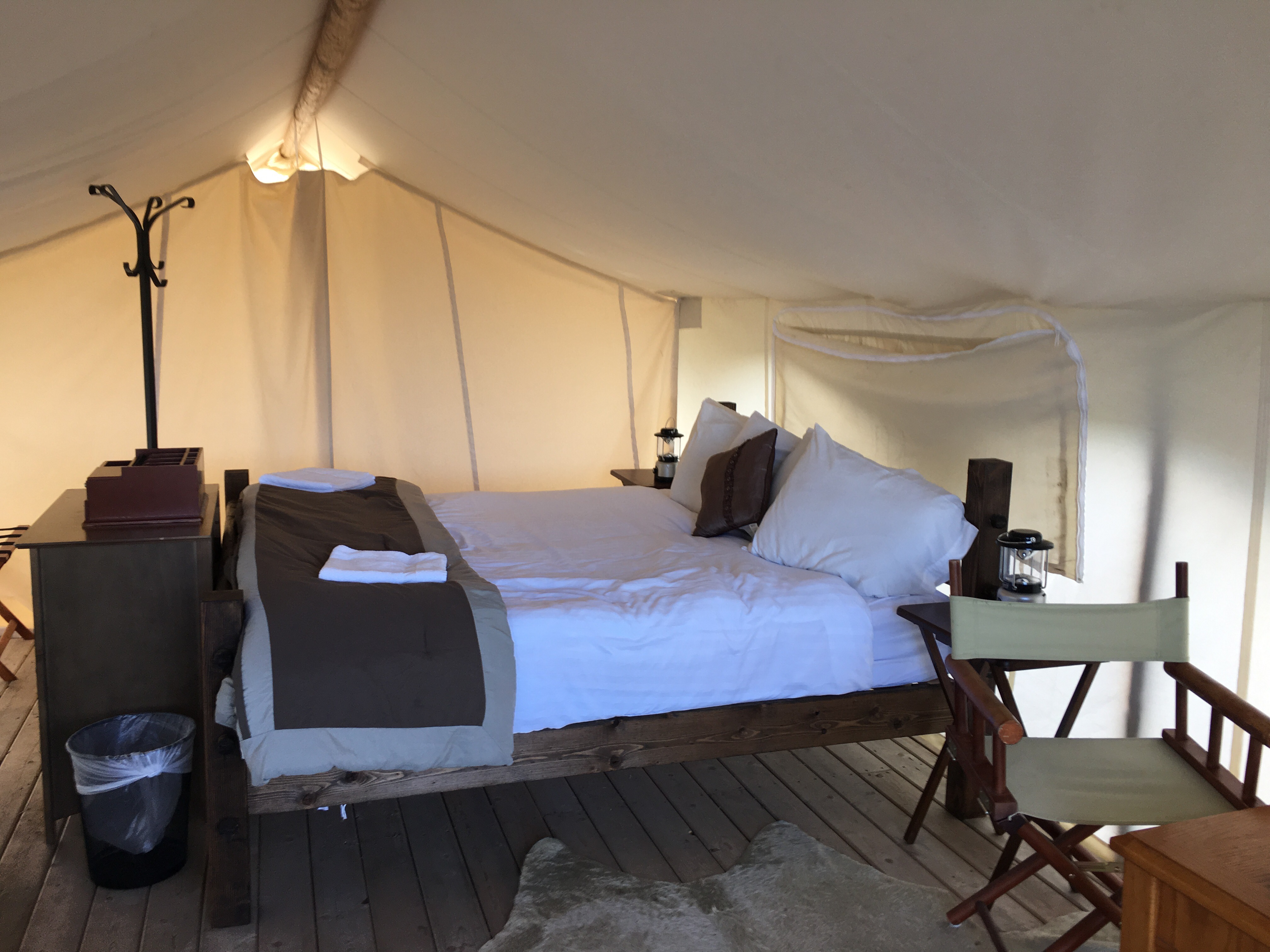 For dinner, we drove back into West Yellowstone and ate at an awesome place called Wild West Pizzeria. Admittedly, we were hungry after a busy day. But, we all thought that the meal was legitimately good — a pretty high compliment from this family.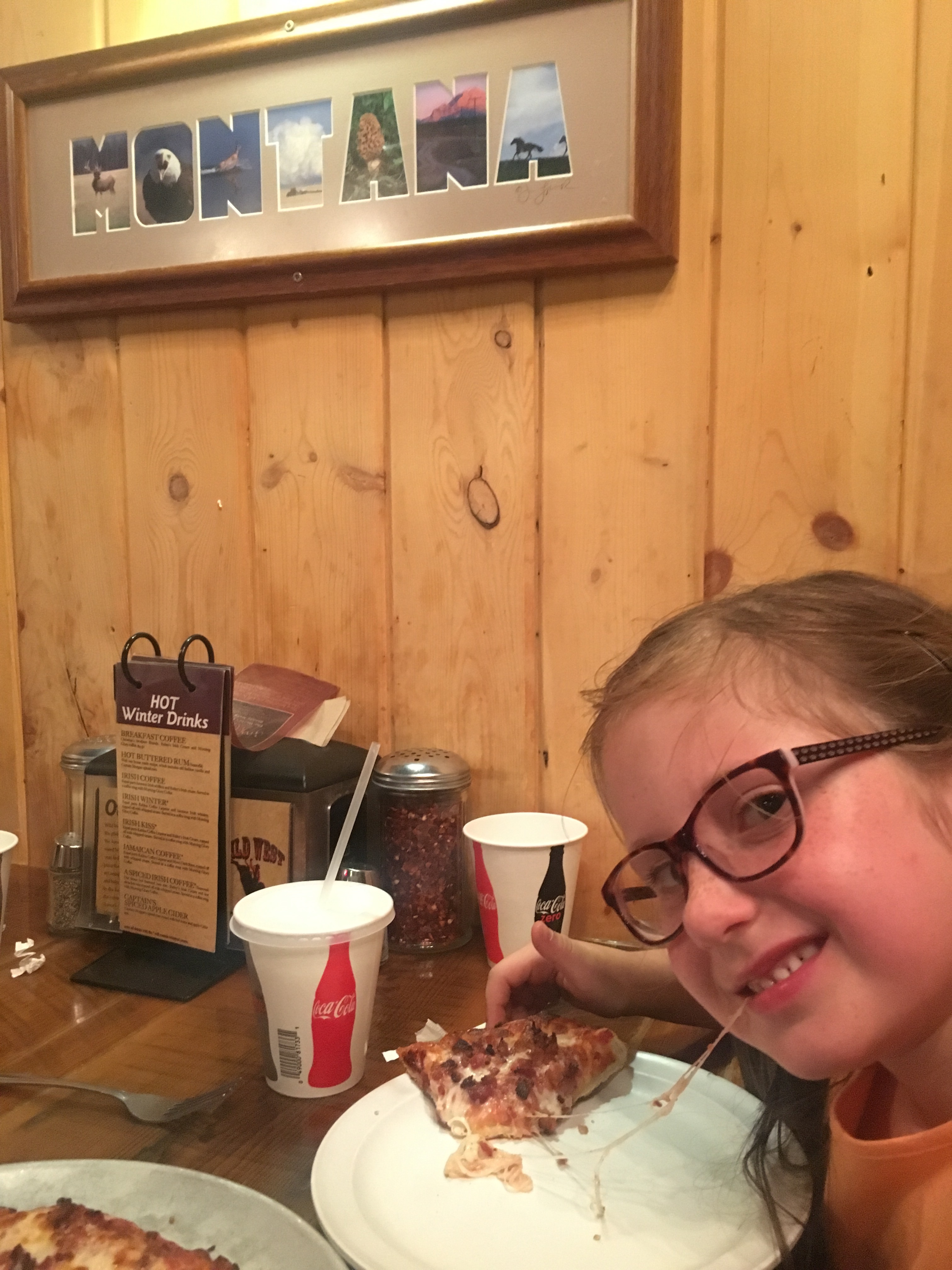 So, it's nearly 8:00 and after dinner. What to do? Well, why not put the cherry on top of this sundae and visit Idaho? That's exactly what we did… visiting the town of Island Park (which is about 500 ft wide and 33+ miles long, incorporated to circumvent Idaho liquor laws) to see Henry Lake just before sunset.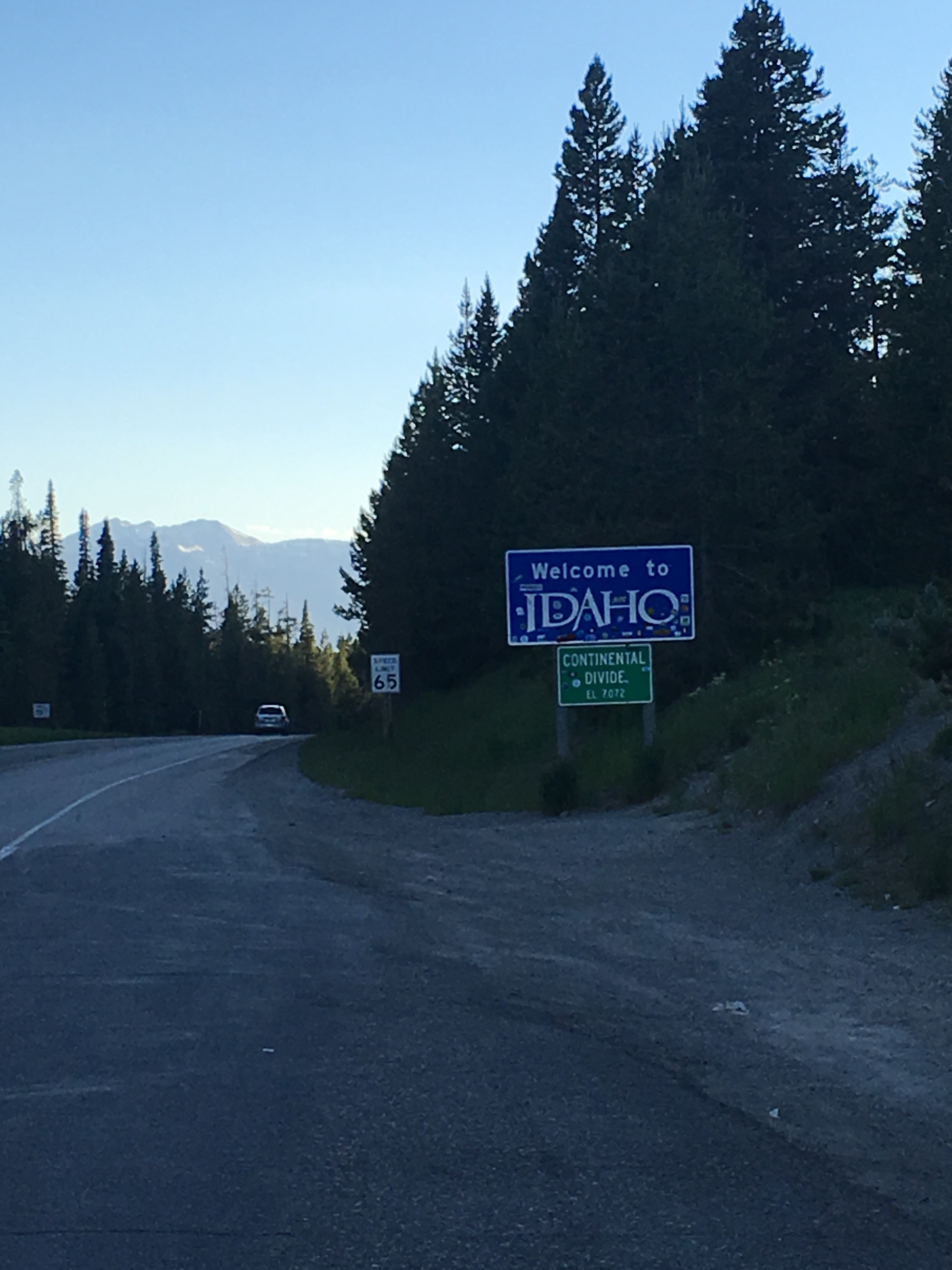 After returning to Yellowstone Under Canvas, we got ready for bed, and I made a fire in our "stove/heater/fireplace thing" (I'm a native Floridian — what do I know?). The trick will be keeping us comfortable throughout the night as temperatures dip into the upper 40s.
Today's box score: +2 states (Montana, Idaho).