Ahhh… London. It's good to be back. Although it's always oddly difficult to figure out how to spend our time during a short visit (same issue two years ago). Ironically, I think it's because we're so familiar with the city and have spent so much time here.
As a result, we're usually picking between things to see and do that we've seen and done previously… sometimes recently (because they're a fav), sometimes not (because we only liked them "well enough" to not warrant a rapid return). Of course, as years have gone by the gaps have increased, which makes the decision-making a little more difficult: oh, what to do?
Today we opted mostly for a return to old favorites, starting with Tate Modern that's undergone a significant and wildly successful (IMHO) expansion. Essentially they added an adjoining tower to the old power station building:
From the top of the new tower, you're given panoramic views of London: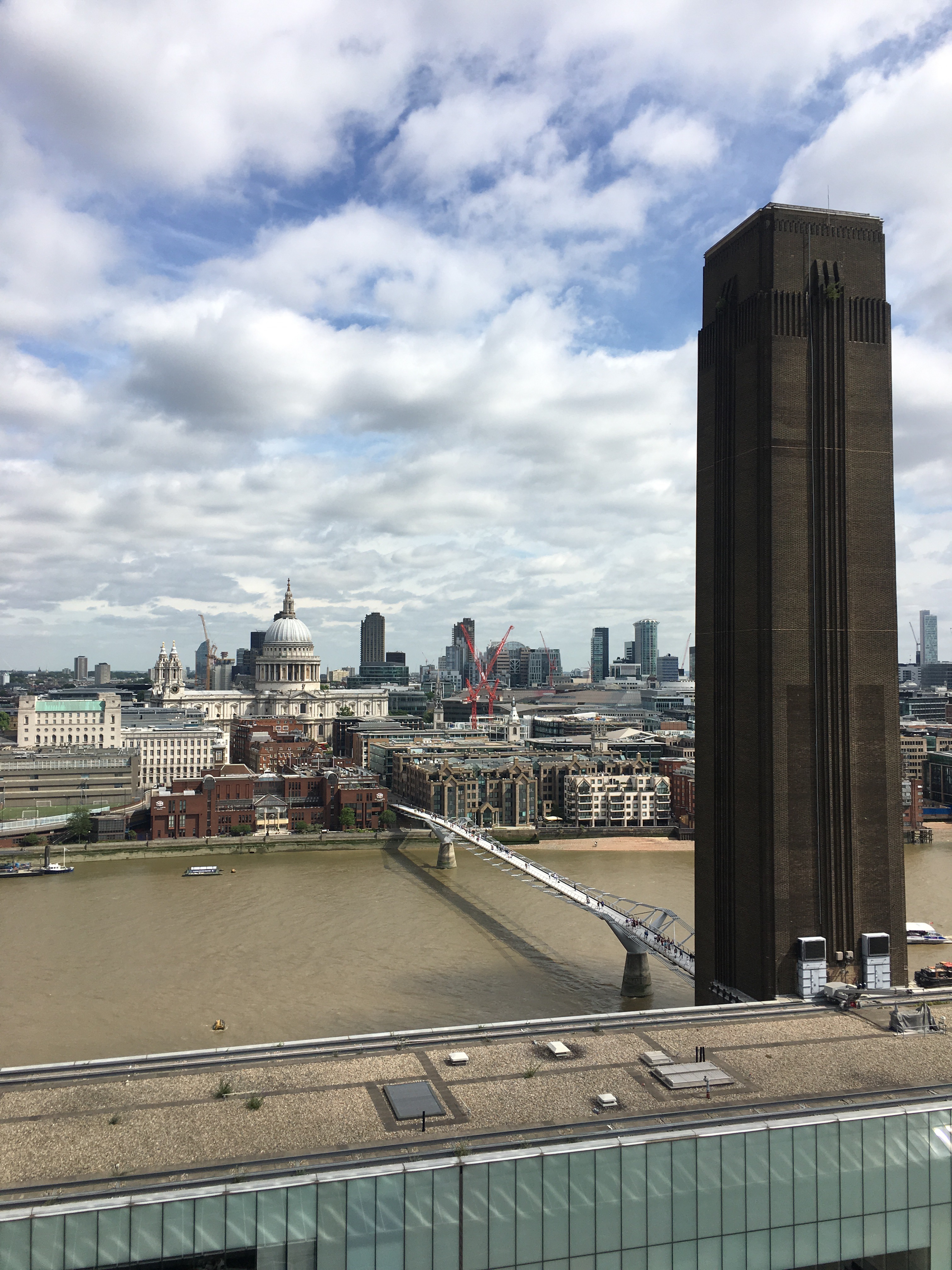 I was really struck by the amount of skyscrapers (existing and under construction) that are starting to dominate the London skyline. Indeed, from this vantage point, you can now hardly see "the gerkin," which used to stand out like a giant pickle on the horizon.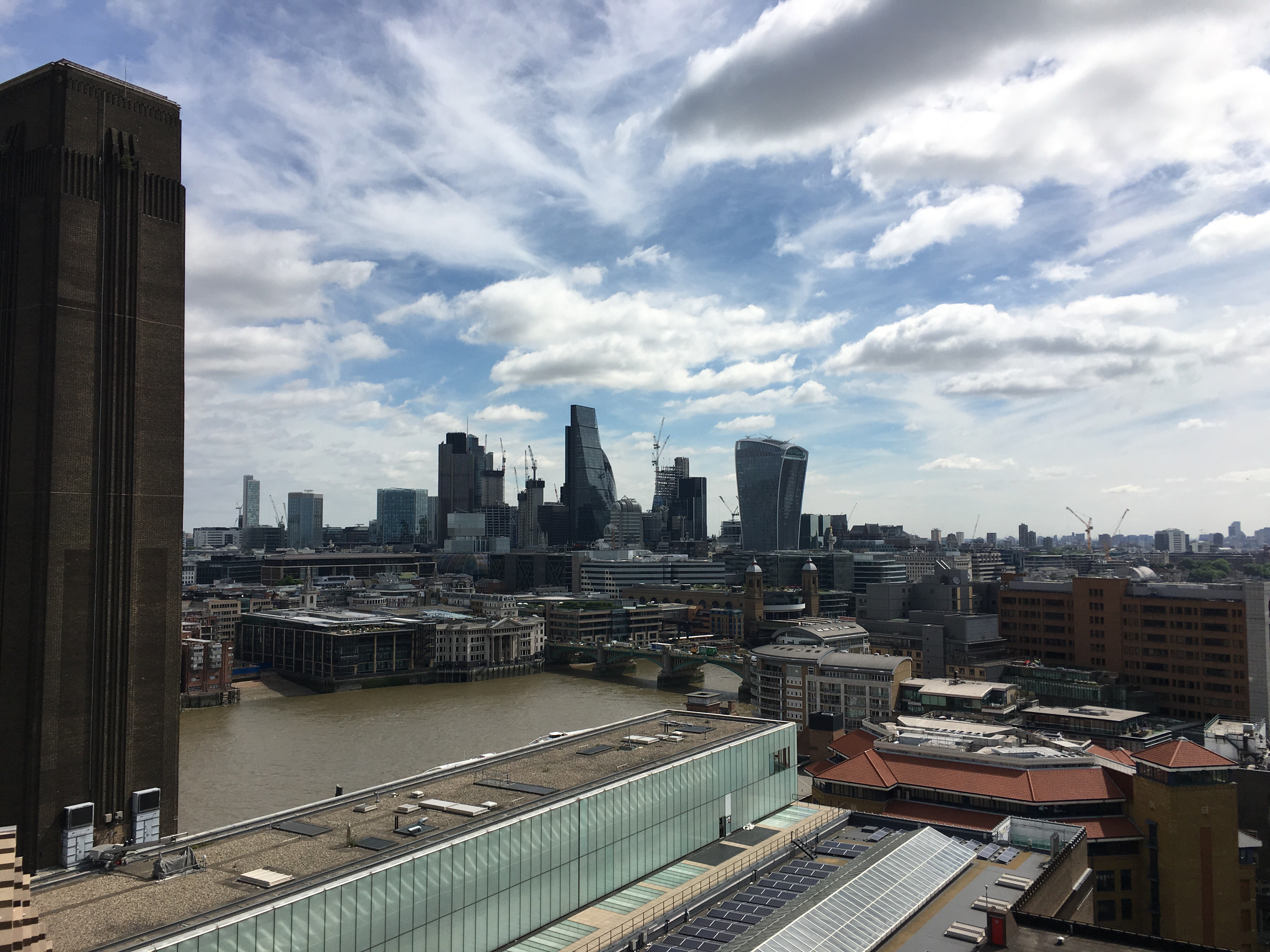 While Mom and Emerson explored the permanent collection, Libby and I focused our visit on the solo show of the Turkish-born artist Fahrelnissa Zeid. Like other female abstract artists of her generation (like Carmen Herrera), her work was overlooked and under appreciated for years relative to her male peers. Her abstractions–which look hard edge from a distance–are actually quite painterly. We really enjoyed the show.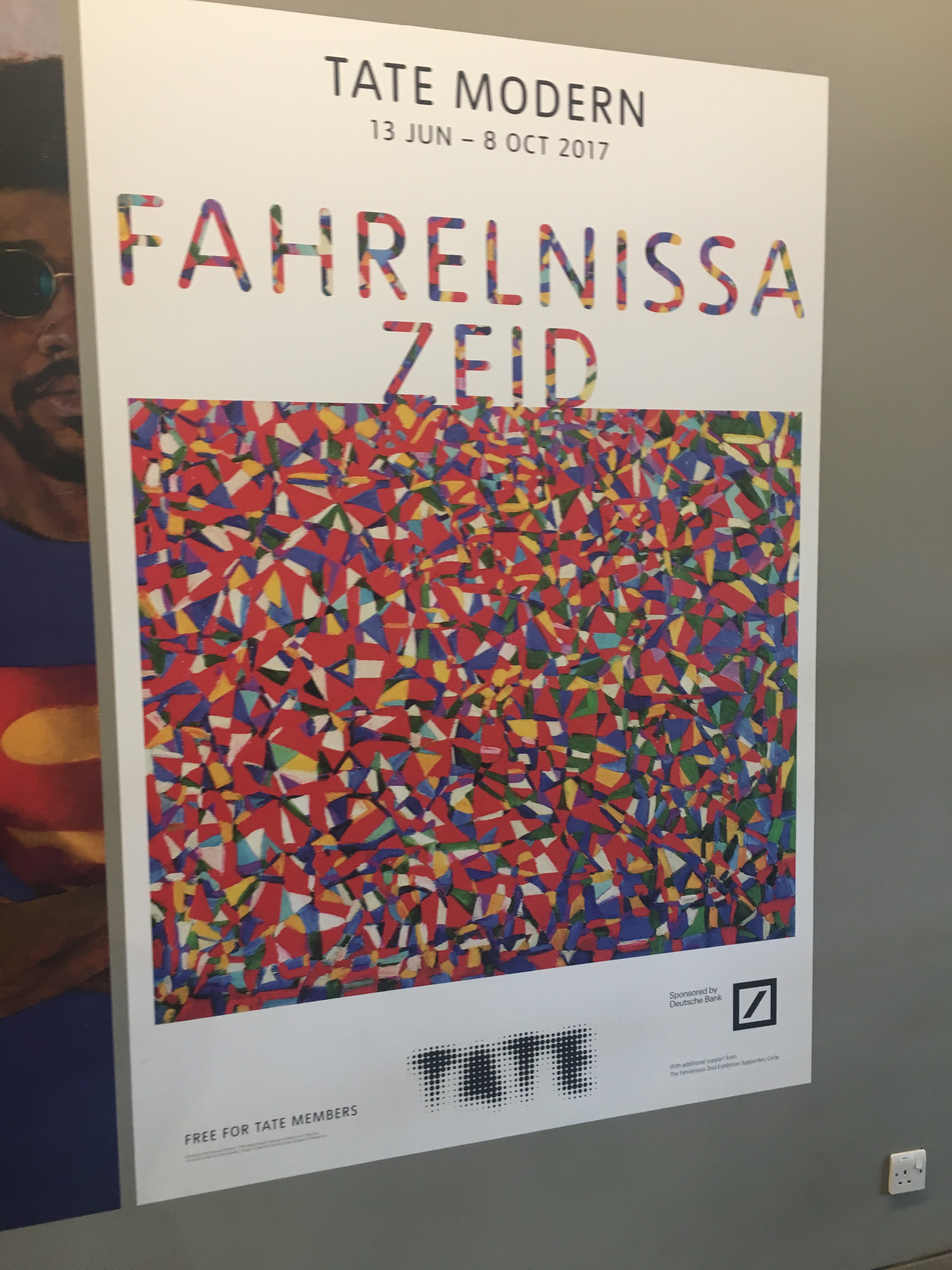 Afterwards, we headed to the Borough Market–one of out other favorite places–for lunch. Sadly, the Borough Market area was the recent site of a terrorist attack. That made Borough Market an easy choice: terrorism is not an existential threat. We, as free people of good will, shall not be deterred from living our lives. Thus, today's lunch visit was not just about eating. It was also a show of solidarity and support, as well as a middle finger pointed at Islamic Jihadists (and really any fundamentalist who let's their perverted faith term them toward hate and violence). It was good to see the Financial Times staff that showed up in support too: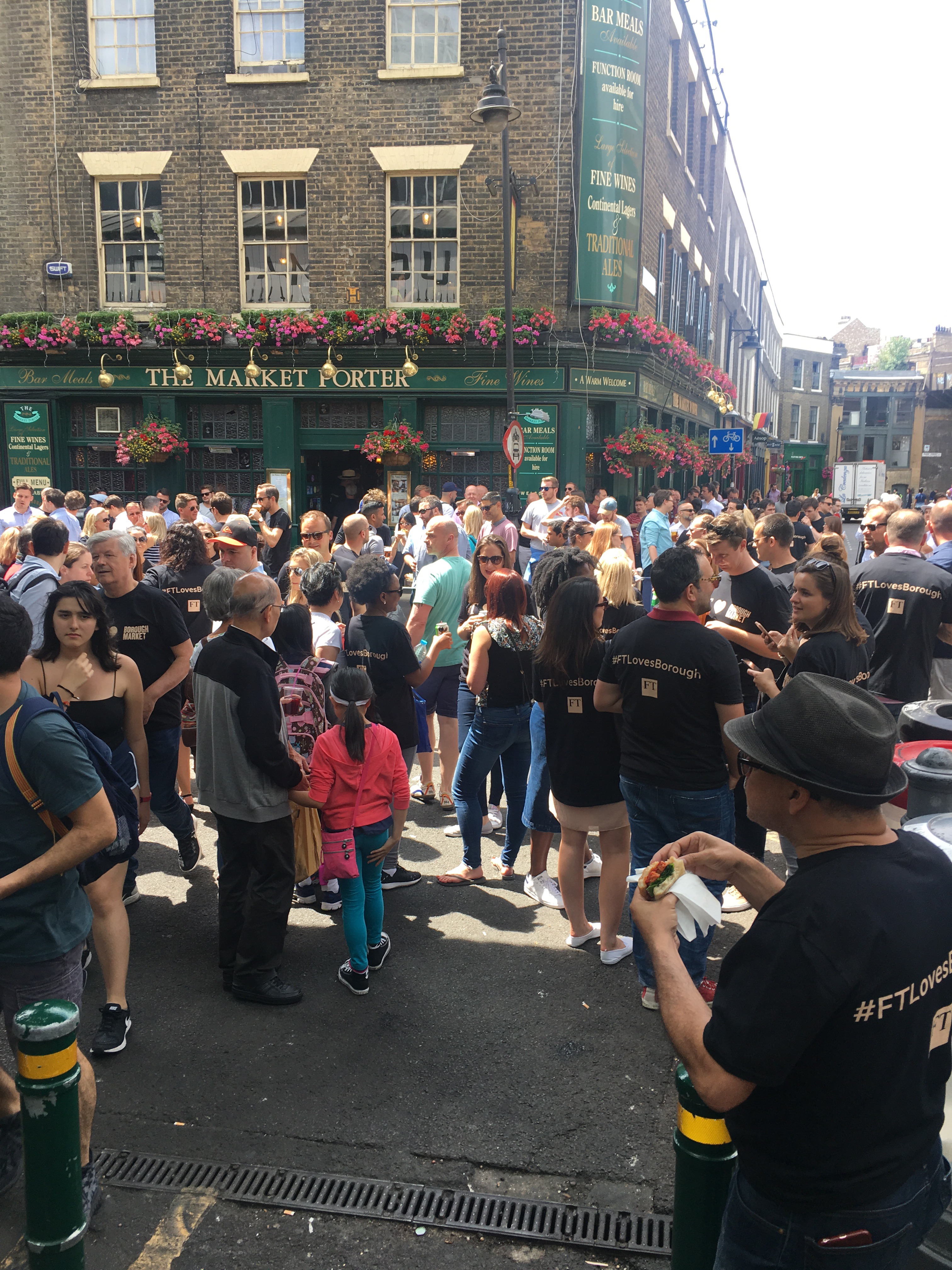 After lunch, we took the London Underground to Westminster and walked up Whitehall to see the Houses of Parliment, Downing Street, Whitehall Palace, Trafalgar Square, the National Gallery, Leicester Square, Piccadilly Circus, etc. We did a little window shopping (and actual shopping) along the way, especially on Regent Street.
From there, we hopped on the Central Line to Queensway and walked across Kensington Gardens from Bayswater to Kensington High Street. We stopped at the memorial playground for Princess Diana and also walked around Kensington Palace.
We then headed down High Street Kensington to see the Allen House, our home away from home in London for 15 years. Allen House is now used as serviced apartments for "long stays" (90 night minimum). That's kind of good news as it leaves open the door that we might stay there again one day.
Overall, High Street Ken hasn't changed too much. It now has a Five Guys (positive addition), but it lost the Sainsbury across the street (not a huge loss given Whole Foods and Waitrose only a short walk away). A few other shops have folded (none of great significance to us), which isn't shocking as I suspect high street shopping here faces many of the same pressures as retailers in the States.
We grabbed a quick dinner at the good and affordable Whole Foods food court before walking back to our hotel to drop off Mom and Emerson. Libby and I then headed out to the late opening at the Royal Academy's Summer Exhibition, which was delightful as they had live performance art, a cash bar serving London summer-themed cocktails, and a show that was really well selected and hung relative to what I recall from some recent prior years.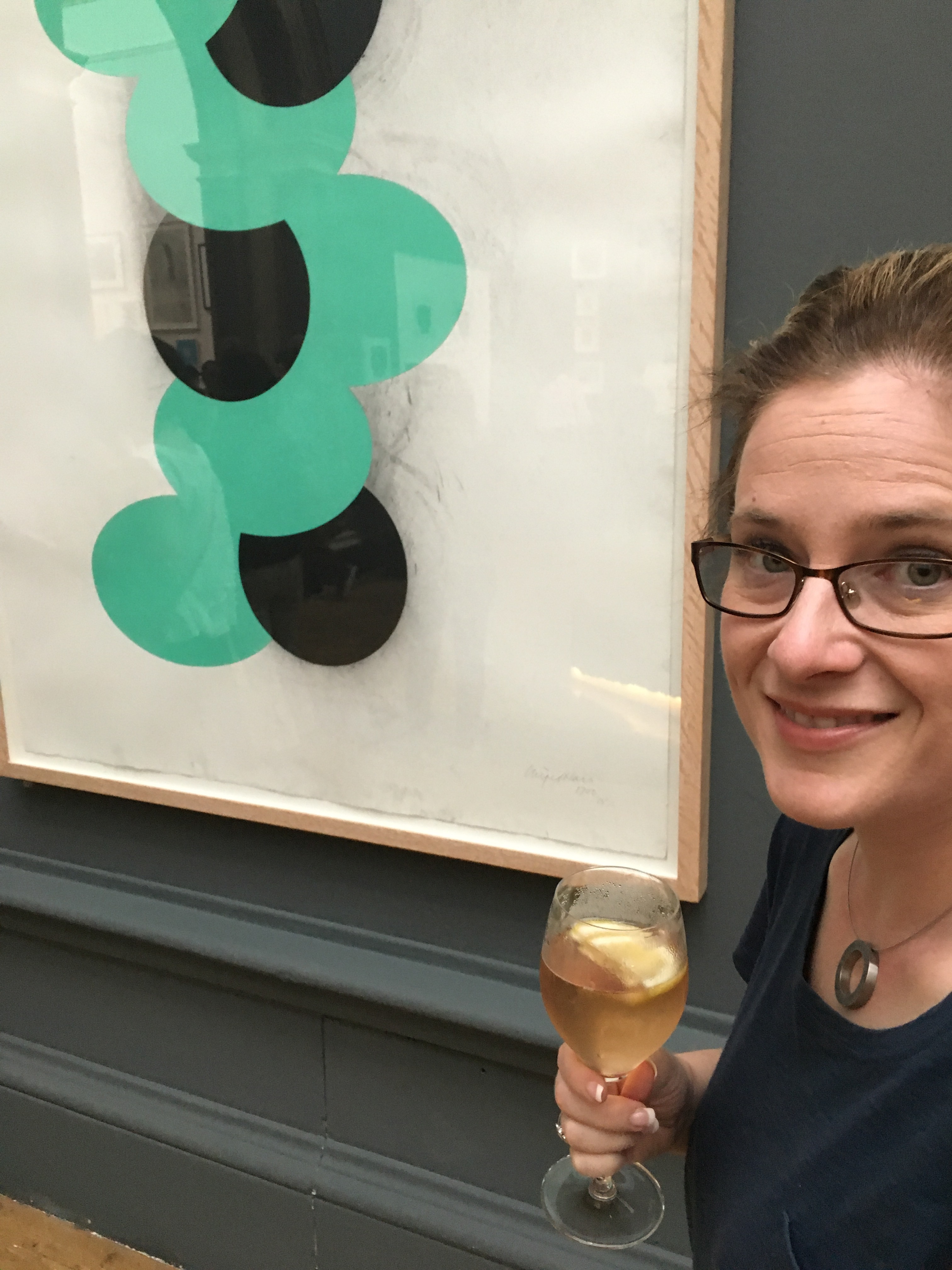 These will give you a sense of the dynamism show: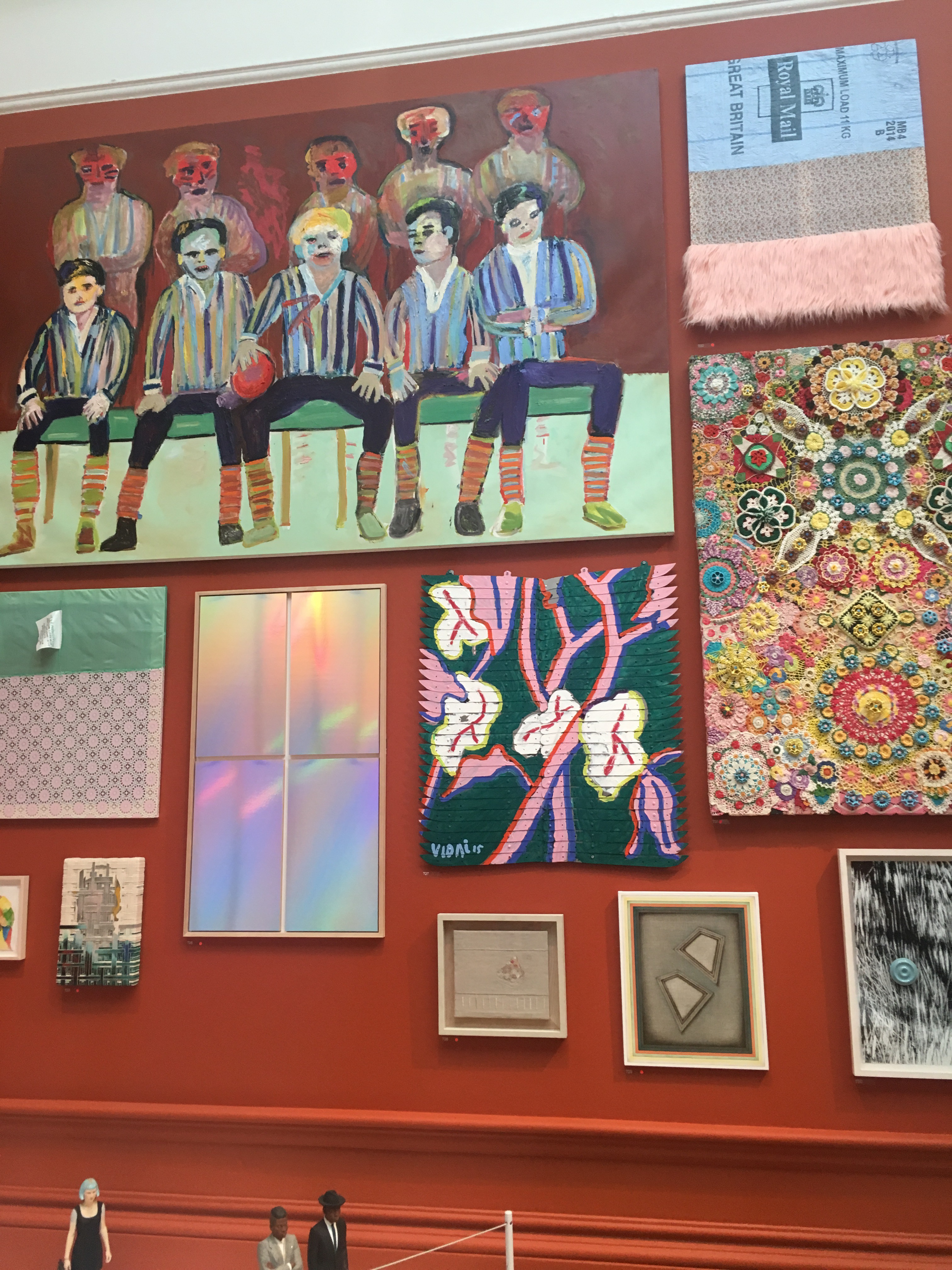 Here are the performance artists at work "plank snugging" (what else to call it?) in harnesses: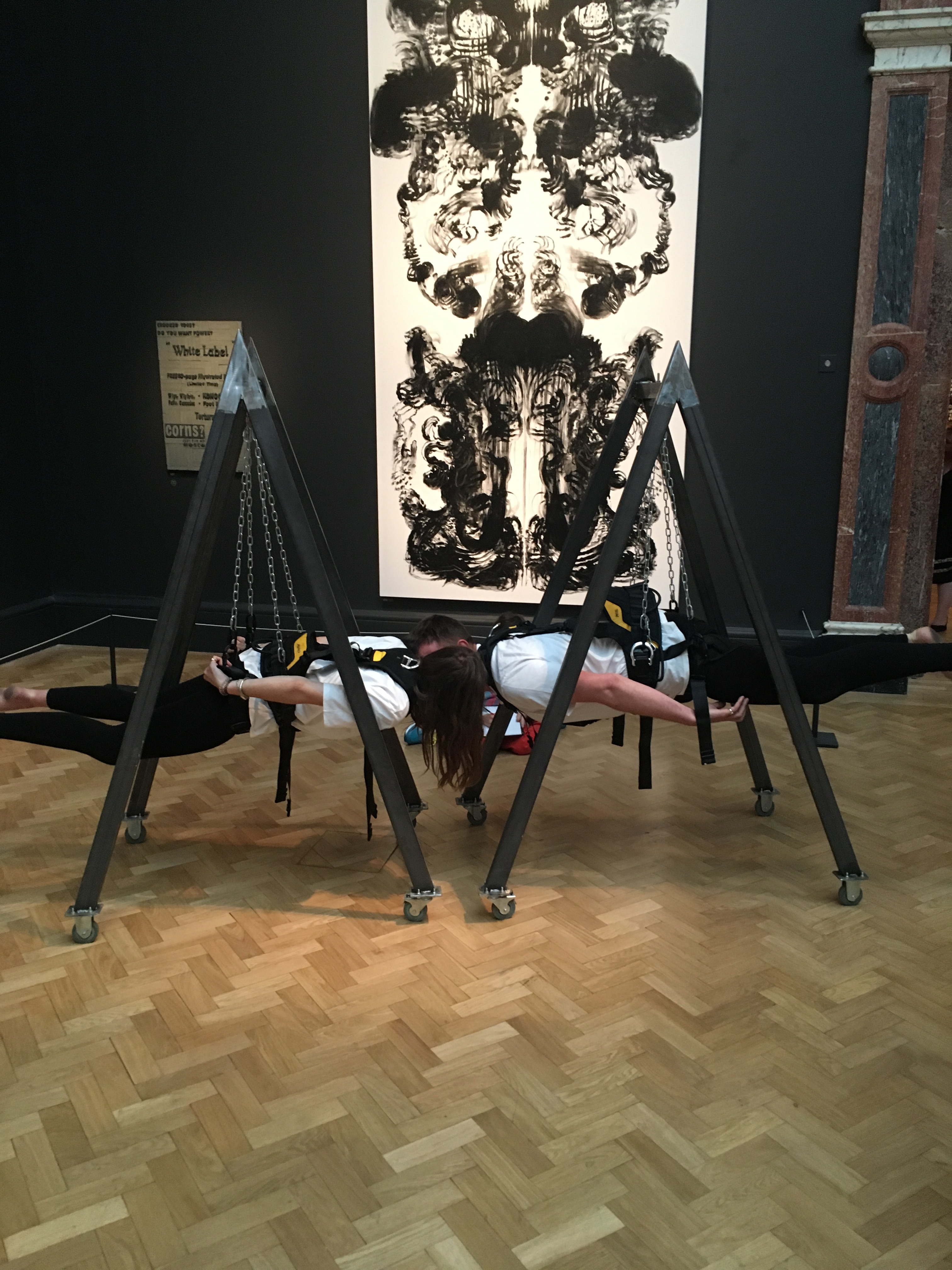 Here are a few works we especially liked, including…
this striking Donald Sultan,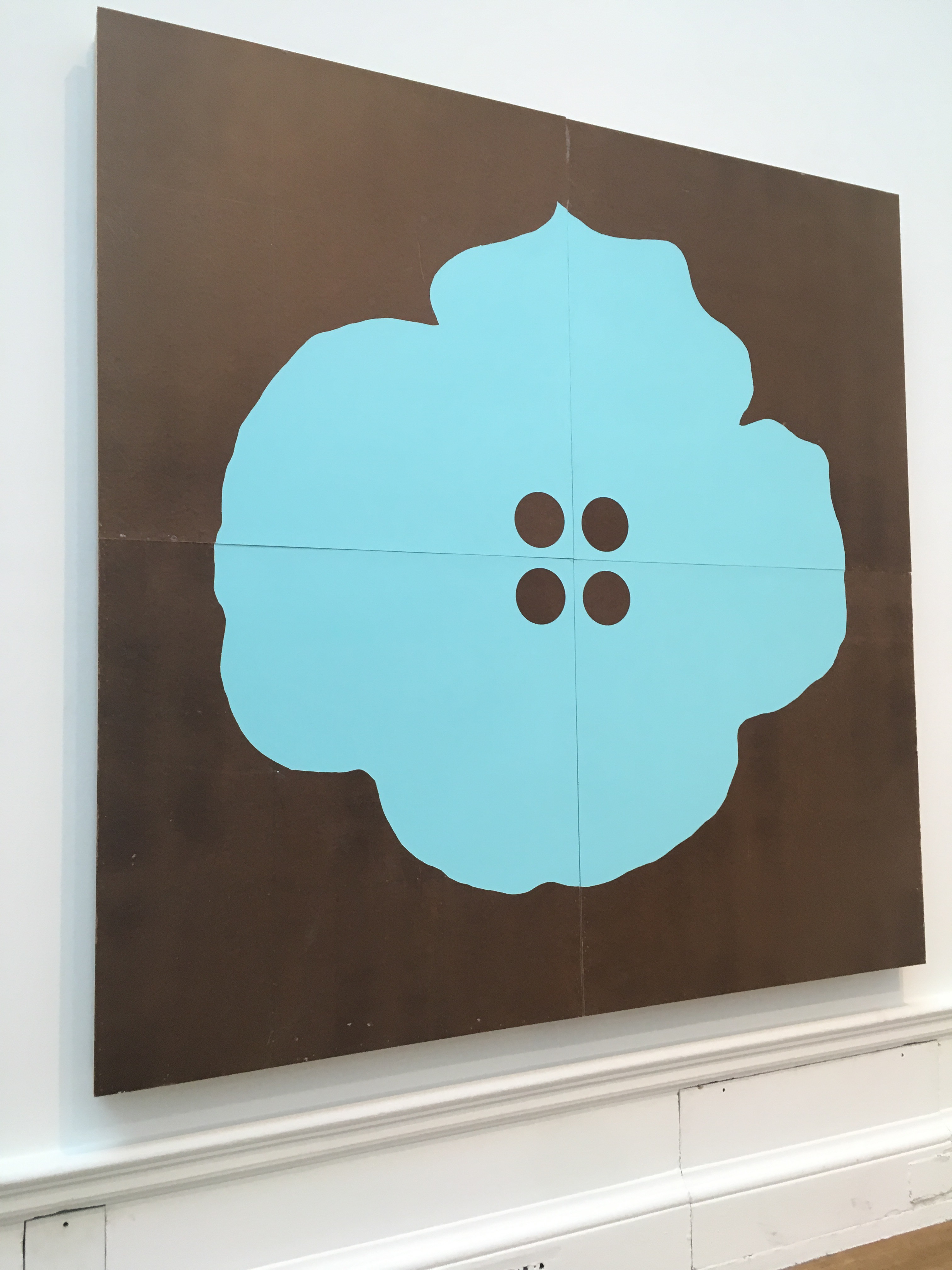 this really smart, conceptual work,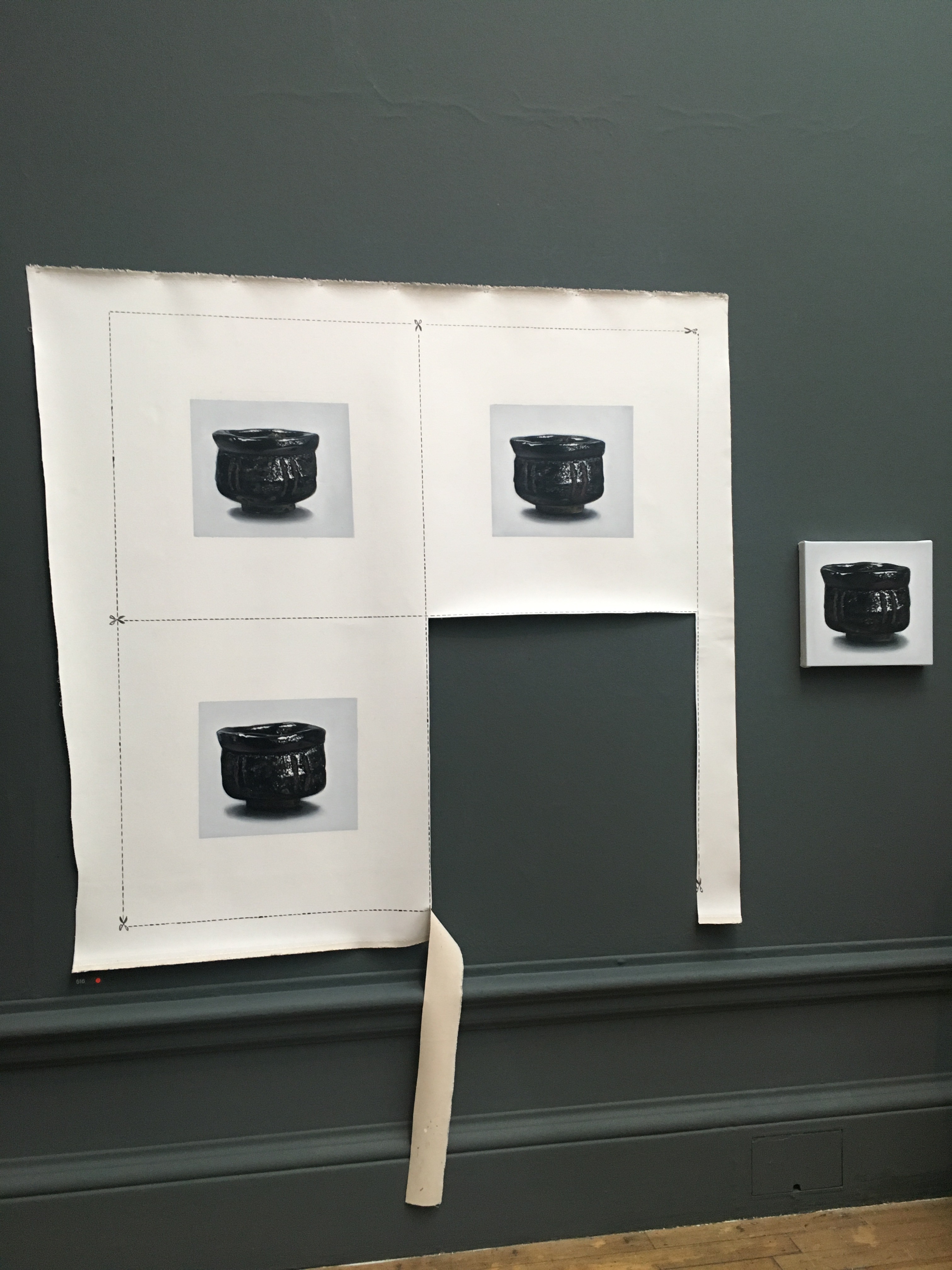 this Gilbert & George,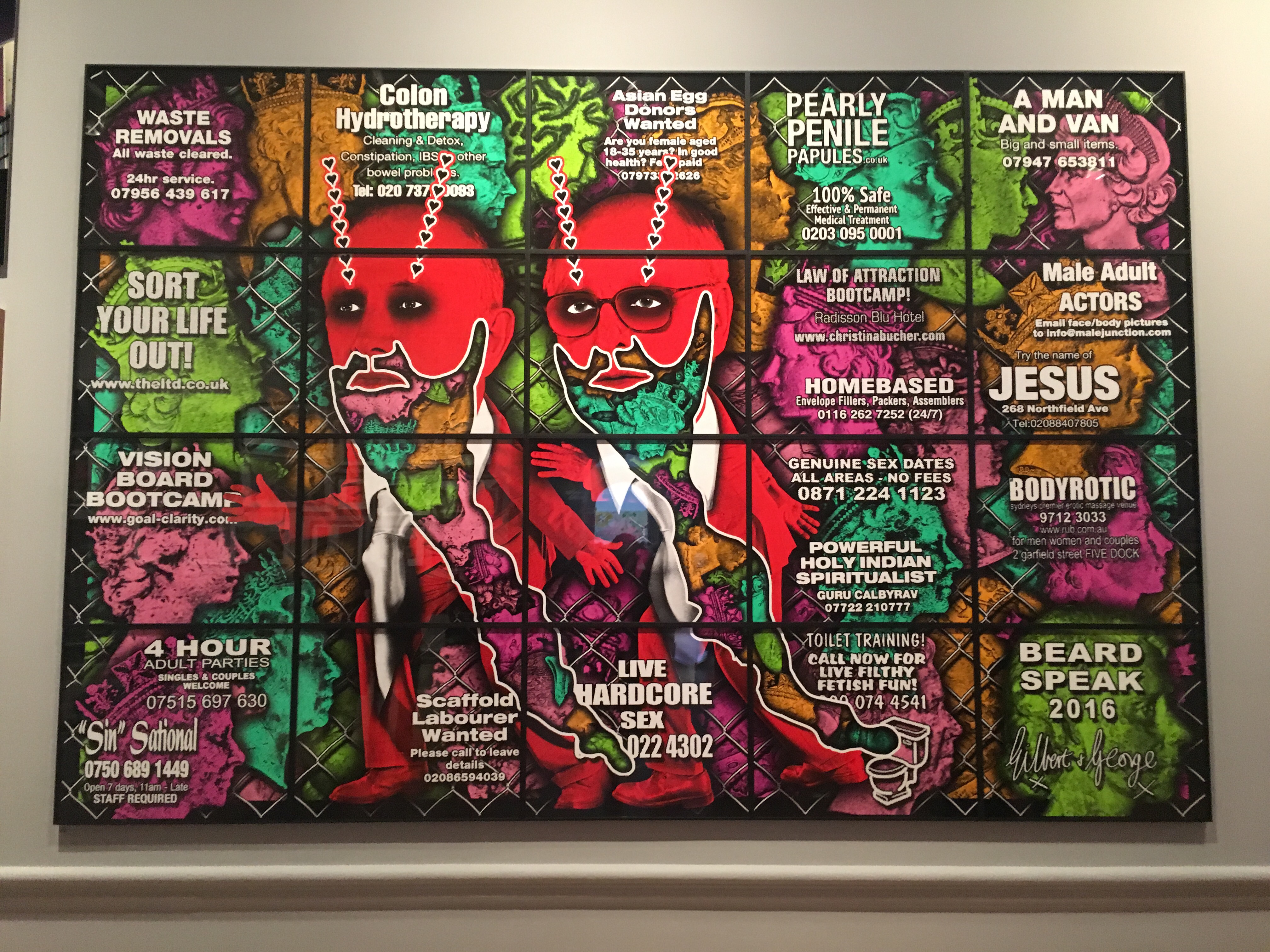 and this arresting, highly textured piece that just "really worked" in a surprising way: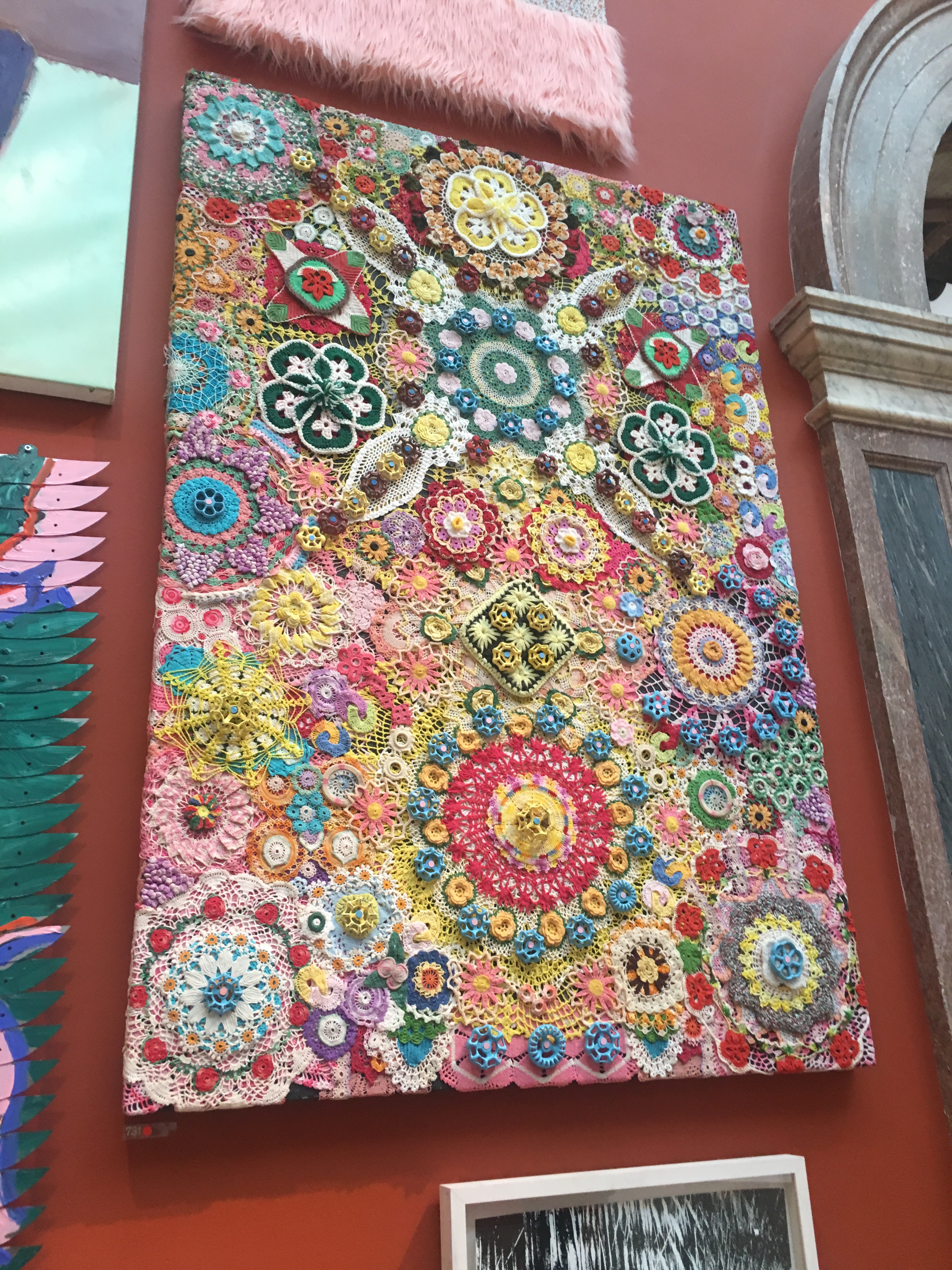 We also purchased this Paul Huxley edition to add to our collection of hard edge, minimalist, and op art: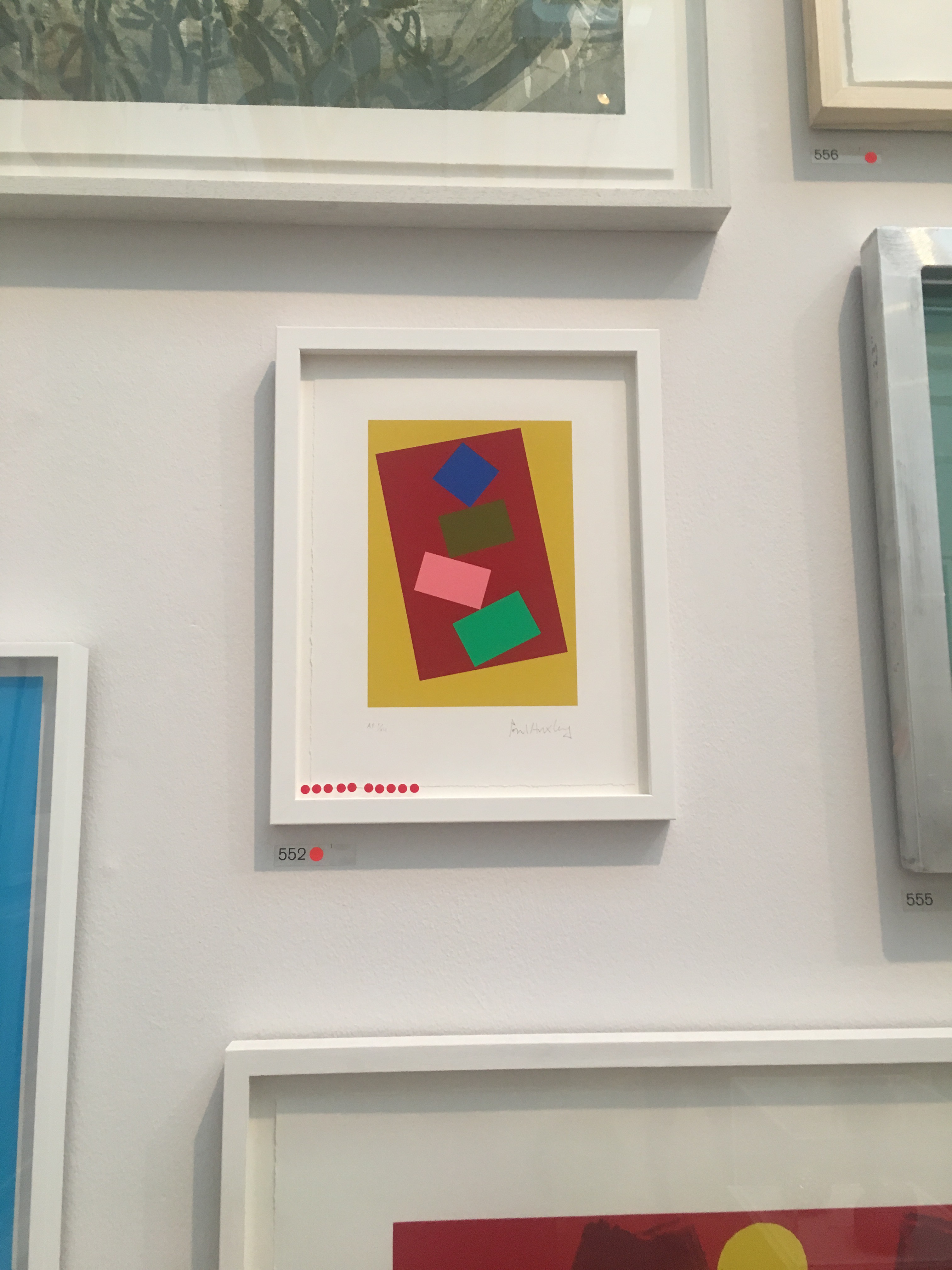 After the show, we walked around Mayfair a bit absorbing the "poshness" of it all before heading back to our hotel in Kensington.