As noted in my earlier blog update, my day started very early at 2am.
Libby "slept in" until 6am. By 7 o'clock, we were out of the hotel and heading to a coffee shop for some (decaf for Libby) liquid refreshments. Nothing much else was open yet. So, we returned to our hotel room to enjoy our drinks while chatting (this is our a regular, weekend morning ritual anyway).
Here's a view from our hotel room overlooking "midtown" Anchorage and points beyond to the south: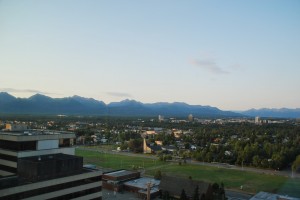 Around 10am, we decided it was time to venture out again. Under bright blue skies and with a slight chill in the air (temperature was in the 50s), we set forth to really explore Anchorage. We wandered around downtown following the walking tour outlined in Frommer's Alaska 2009. This tour included a handful of older buildings (most were destroyed in the 1964 Good Friday earthquake), a visit to the Anchorage Market and Festival (good source for street food and artisan/handmade products of all sorts) the Art Deco styled Holy Family Cathedral (about the size of a modest parish church), Alaska's "fanciest" mall (presumably because no other mall has been built since 1982???), and the Anchorage Museum at Rasmuson Center (photo below).
The Anchorage Museum's art gallery was modest but enjoyable. The visit was made worthwhile by our discovery of Sydney Laurence, Alaska's "most widely beloved historical painter." Honestly, many of Laurence's works display only a modest talent (and in the form of Bob Ross of the "Hotel School" movement). A far smaller number are truly exceptional and spectacular, albeit not exactly our aesthetic style. What I really liked about Laurence was his connection to the long-standing artist colony in St. Ives, Cornwall, England. Of course, I mostly like and have started to collect the work that originated in St. Ives in the 1940s and later (the late Terry Frost being my favorite).
We also paid a visit to a local bookshop, Title Wave Books. It contained a very literate selection of non-Alaskan fiction and non-fiction, as well as wonderful selection of titles on all aspects of Alaska. We bought a few volumes on Jack London's works (as I like to read geographically appropriate works when traveling). The best part of the visit was that we were able to witness a veritable run on porn: literally multiple, male patrons buying "dirty" magazines back-to-back. These shoppers included one guy who looked (and acted) like he was from central casting on Dateline NBC's "To Catch a Predator" and another who inexplicably had a bottle of Purell hand sanitizer in a holster attached to his belt. I'm no prude and don't care what anyone buys… but that was just weird for the middle of Saturday afternoon in an independent, non-adult bookshop!
Following our walking tour, we ate a late brunch at Orso. It was excellent. We both started with the included orange juice and muffin. Libby's had a Spanish-style frittata with a side of breakfast potatoes and smoked bacon. I enjoyed Orso's signature Alaskan blueberry French toast (iPhone photo below), stuffed with cream cheese and ricotta. I also had a side of reindeer sausage. That's right, I ate Rudolph… or maybe it was Comet or Vixen. We'd highly recommend Orso.
The only downside to lunch was that I managed to get a wicked case of heartburn afterwards. Perhaps, this was payback for my sins against Santa in consuming the reindeer sausage? In any case, I had to sojourn to the Wal-Mart in midtown via taxi to pick-up some Zantac. I've not been to a Wal-Mart anywhere in probably five years and this one didn't disappoint. What a zoo! But $40 and one hour later, I was heartburn free.
In the early evening, I went for a walk along the Tony Knowles Coastal Trail.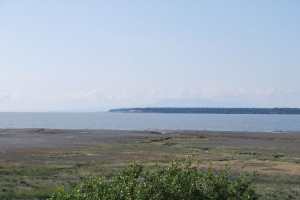 I also bought some wine for the cruise (more on that later).
We had a light dinner (soup and salad) at the hotel and retired early. Our train to Seward leaves at 6:45am. Given that I'm not sure how Internet connectivity will be in Seward or aboard the ship, you probably shouldn't expect another Sunday update from me until sometime on Monday.