To celebrate our 15th wedding anniversary, we decided to head to Chicago for a couple of days. So, we woke up this morning and boarded our 6:30 flight to the Windy City via Atlanta. After landing in Chicago, we headed to Hertz to pick up a rental car. Today's mission: drive to the states of Wisconsin and Indiana (both nearby) in order to check them off the list too!
Crazy, I know. But, we need to make progress in visiting states!
We started with Indiana, the state line being just south and east of Chicago, where we visited a recreation area on the shores of Lake Michigan. We then drove back through the city and continued north to Pleasant Prairie, Wisconsin, which indeed seemed both pleasant and prairie-like. It's also home to an outlet mall.
We returned to the airport, dropped off the car, and were in downtown Chicago by 4:00. We're staying at the Renaissance Downtown Chicago and have a fantastic room overlooking the river:
As we were hungry and somewhat tired, we opted for an early dinner. Lucky for us, Frontera Grill was nearby and just getting ready to open! So, we headed over there, stood briefly in line, and managed to quickly get a table. We started with the guacamole (very good, but no more so then mine), then soups (tortilla for me; poblano gazpacho for Libby), and two different sampler trios:
Street Food — potosinas (fresh cheese, avocado, crema, Tamazula), sweet potato garnachas (pork chilorio, grilled orange, red beans), sopes (shredded beef, roasted tomato, green chile)
Old School Frontera Trio — smoked chicken taquitos (sour cream, guacamole), Mexico City-style corn masa quesadillas (artisan cheese, epazote), ceviche fronterizo tostadas
Libby loved the garnachas (sweet and savory) and sopes (earthy and beefy). My favorites were the Frontera ceviche (bright and citrusy) and potosinas (spicy and smoky). Here's what it all looked like: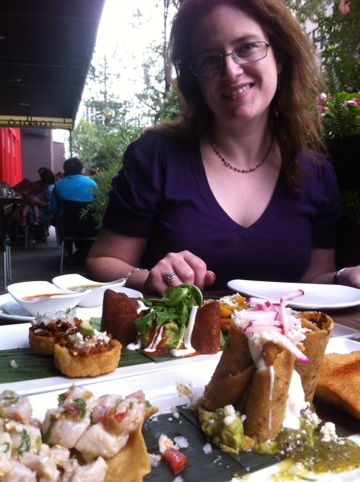 For desert, I had a corn and blueberry torta with sour cream ice cream, and Libby enjoyed a mint chocolate tres leche cake with berry sorbet. Both were amazing–Libby declaring it perhaps her favorite desert ever!
I should mention that I washed all of this down with a local Goose Island draft beer brewed especially for Frontera, called Marisol (a Beligian style wheat ale brewed with citrus & green coriander). Libby had the excellent, homemade limeade.
We walked around a bit after dinner and then returned to our hotel looking forward to tomorrow's further adventures.
Today's box score: +3 states (Illinois, Indiana, Wisconsin)