We awoke to a beautiful morning on Saturday. While I was awake well before sunrise, Libby slept in until 7:30 (which, I suppose, is sleeping in by our family standards). After getting dressed, we headed out to get coffee and to explore the city.
We walked along the river to Michigan Ave. and visited the University of Chicago's bookstore. We then window shopped our way up the Magnificent Mile taking in sights along the way. Although it's theoretically an impressive shopping thoroughfare, Dubai has really spoiled us — nothing else (that we've seen anyway) compares.
At 10:30, we headed to grab brunch at Frontera. Yeah, yeah… I know. We just ate there the night before. But, we already had reservations, and brunch is different than dinner. Indeed, by having dinner the night before, we were now free to try actual brunch/breakfast food. That's my story anyway…
Frontera did not disappoint. I had a chocolate cappuccino, and Libby drank fresh squeezed orange juice. We started with a melon and mint guacamole, which was refreshing and excellent. My meal consisted of Iroquois corn hotcakes, chili glazed bacon, and scrambled eggs. Libby ate a chorizo and jack cheese queso fundido with fresh corn tortillas. All was excellent!
After brunch, we headed over to Millennium Park and on to the Art Institute of Chicago. In addition to the permanent collection, the Institute was holding a major retrospective of Lichtenstein's iconic Pop art work: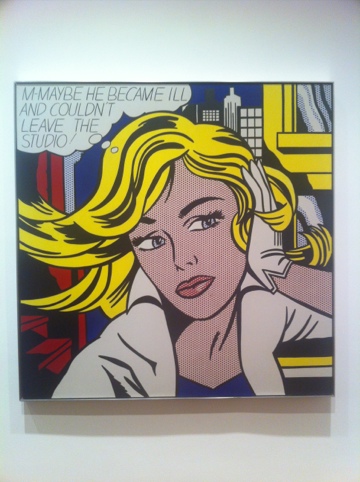 Excellent show!
I also greatly enjoyed seeing Ellsworth Kelly's Chicago Panels and other works on display.
The permanent collection of this encyclopedic museum is very impressive. Highlights included a number of famous (and less well known) works, such as Grant Wood's American Gothic. In all, we spent about four hours at the museum.
After looking at art, we grabbed some coffee at Intelligentsia (the Chicago equivalent to London's Monmouth Coffee Co.). Fantabulous…

Next, we spent some time exploring State Street.
For dinner, we'd intended to visit the Purple Pig for tapas — too long of a wait. So, we went to Emelio's for tapas instead. This seemed like a popular choice with a mostly local crowd. The food was very good, especially Emelio's famous potato salad (garlicky goodness from the aioli… total yum!).
After dinner, we walked around town a bit, and I went out to take some night photographs of the Windy City. I think they turned out well. I'll have to post them soon.
Tomorrow morning, we fly home to Tampa.
All in all, we've had an excellent time during our mini-break in Chicago!