Technically, we arrived in Hong Kong late on Day #2. Our Korean Air flight—aboard the ginormous, double-decker A380—was very pleasant. The cabin service, even in economy class, was impeccable. Indeed, it's sad to say, but they really do put US carriers to shame, including my beloved Delta. We certainly wouldn't hesitate to fly them again (whether connecting in Seoul or not).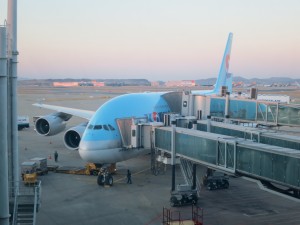 Our hotel in Hong Kong is the Courtyard Marriott Hong Kong. It's located on Hong Kong Island to the west of Central near the Sheung Wan neighborhood. The hotel is very modern and overlooks Victoria Harbour. Unlike the sleek, modern glitz of Central, Western is a more traditionally Chinese part of town. Here's an exercise for you: imagine the best "China Town" you've ever visited. Now, multiple that experience by a factor of 100. That's Western. Our walk to the nearest MTR station (about 15 minutes) takes us past innumerable shops selling (and smelling of) dried seafood and unknown herbal ingredients/remedies/both. Snake bile wine? Edible birds' nests? Perhaps, some deer penis? Check. Check. And, check. Of course, globalization is here too: there's a Starbucks around the corner.

Our adventure for the day involved taking the MTR (Hong Kong's metro/subway) out to Lo Wu (also written as Luo Ho), which is one of the handful of land-based border crossings into mainland China from Hong Kong. This, of course, involved using the MTR, which necessitated figuring out how to buy the tickets and navigate the system. We managed to do this with minimal trouble and no mistakes, thereby finding ourselves at the Lo Wu border crossing in about an hour. Crossing the border into the People's Republic was a breeze with our newly minted visas. Tip: unlike a lot of countries, Americans can't get a visa for China on the spot at border crossings. If you're in Hong Kong for more than a couple of days, it's easy to arrange the visa from here; if not, either take a group tour (which provides a group visa), or pay a bit of premium by arranging the entry visa from home (as we did using VisaExpress.net).
After crossing the border, we found ourselves in Shenzhen, the first "special economic zone" (SEZ) created in the 1970s as an experiment to integrate Western-style capitalism into socialist/communist China. Needless to say, I suspect you know how that's worked out. As a result, Shenzhen (as our travel guidebook says) "has gone from gulag to Gotham City" in only a couple of decades. However, aside from some kitsch tourist traps sights outside of town and the Lo Wu Commercial Center (a multi-story mecca of low-price Chinese merchandise), Shenzhen offers little for leisure travelers. No, to really appreciate mainland China, we'll have to come back and visit places like Shanghai and Beijing.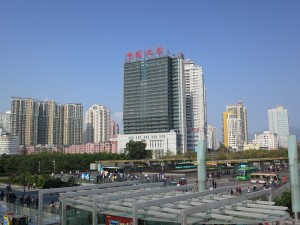 We returned to Central in the late afternoon, exploring the modern architecture and swank shops, such as the Landmark Centre. Having eaten little all day, we were ready for dinner by 6pm. One of our guidebooks suggested a place in Central called Jimmy's Kitchen, which is famous for its "comfort food" (no further description provided). So, we tried it. Jimmy's menu is a hodgepodge of English and Hong Kong favorites… a sort of upscale version of what's called "Soy sauce Western" around here (e.g., flash fried Camembert cheese coated in breading and sesame seeds). We were hungry. It was good to good enough. But, I probably wouldn't return or recommend it.
After dinner, we enjoyed a leisurely 30 minute stroll back to our hotel (about 1.5 miles).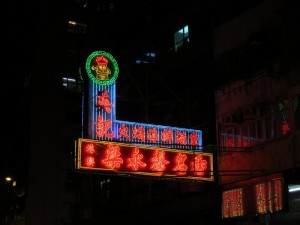 Today's box score: +2 countries (Hong Kong and China)