Last night, I didn't manage to fall asleep until quite late — err jet lag. We also sort of lacked a plan for the day; so, we ended up not doing much at all. This was actually fine (or better) with me given the craziness of the few weeks and immediate days leading up to the trip.
We spent a relaxing morning in the Allen House and then went out to lunch at Nando's, a fast casual restaurant featuring Portuguese-inspired grilled chicken dishes. The quality was relatively high, Emerson enjoyed it, and it was reasonably affordable (£30 for the three of us). It's a good edition to our choices on High Street Kensington (though Nando's has locations all over London).
Emerson at Nando's: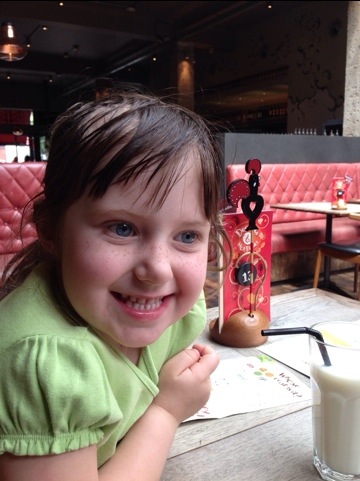 In the afternoon, Emerson and Libby went to the playground. I went shopping for materials for dinner at Whole Foods. I opted for a simple Italian meal: potato gnocchi w/ red sauce and grated Parm-Reg cheese, crusty bread, and some gorgonzola dulce as a spread. I paired this with a Spanish dry rose… nice for the relatively warm summer evening.
I also spent a little time working in the evening, using a MiFi device that I'd acquired for £50 (including 6GB data usage) at EE the day before. While one might find working on vacation objectionable, I actually sort of enjoyed it today. It supported the charade of the day: living as Londoners doing perfectly ordinary stuff.
View from our flat: