After our breakfast this morning, we headed out on our tour of Colonial Quito with our guide, Andres. Unlike yesterday, the day was cloudier with some sporadic light rain showers — not a problem at all. We drove in some very heavy traffic the few kilometers from our hotel in La Colon to the Old Town.
Our first stop was at La Basilica, the largest Neo-Gothic basilica in Latin America. It's an imposing structure that would fit into any city in Europe… until you look closely and notice the touches that make it unique to Ecuador: gargoyles on the facade replaced with the animals of Ecuador, a painting of Jesus holding a globe with light from His heart shining upon Ecuador. Nice.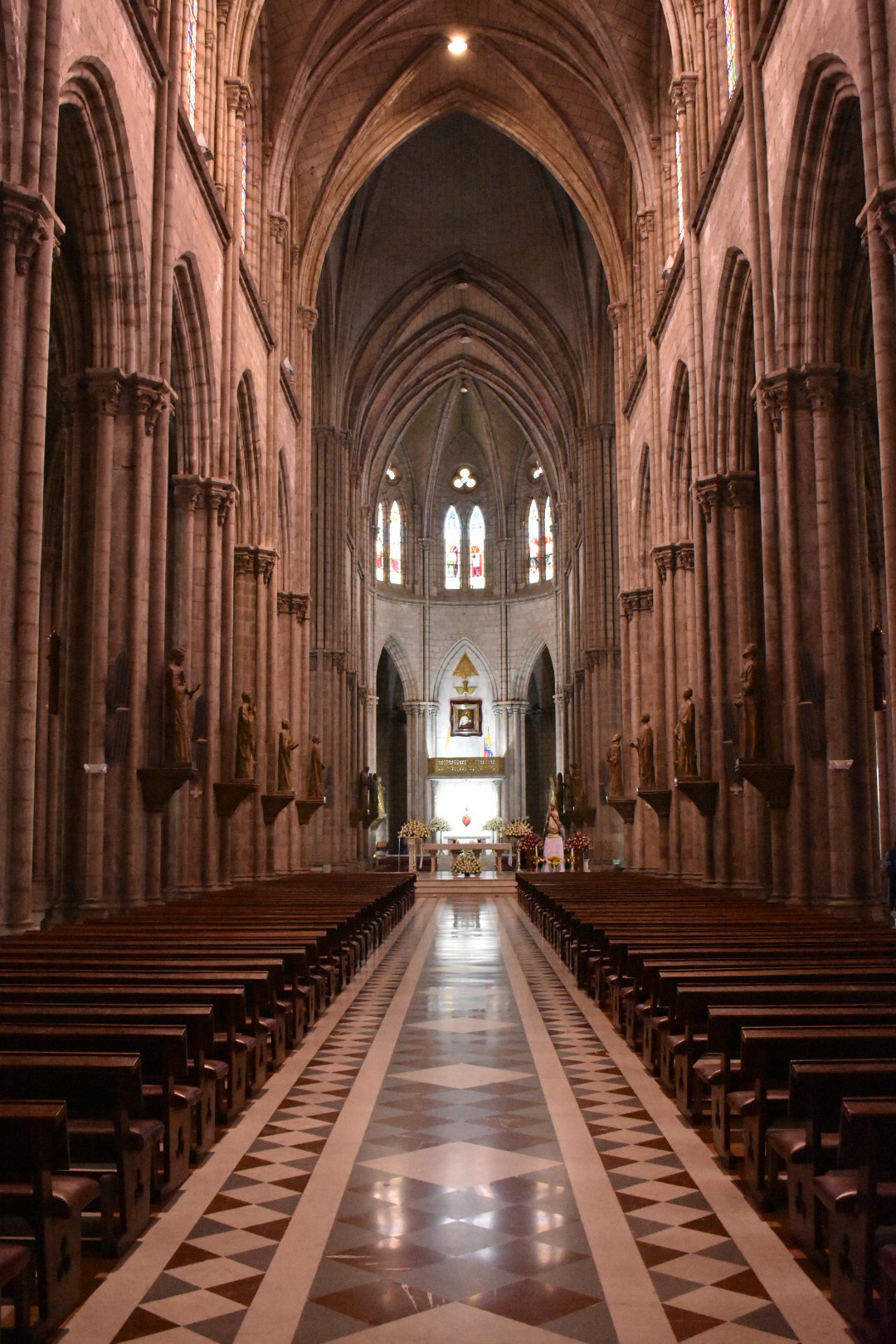 From La Basilica, we drove up to the modern statue of the Virgin Mary that overlooks the city (to the north, much to the chagrin of the majority of the populous that lives to the south). Unfortunately, we had the most rain while up here, which compromised the view a bit. But, it still provided a nice view of the city.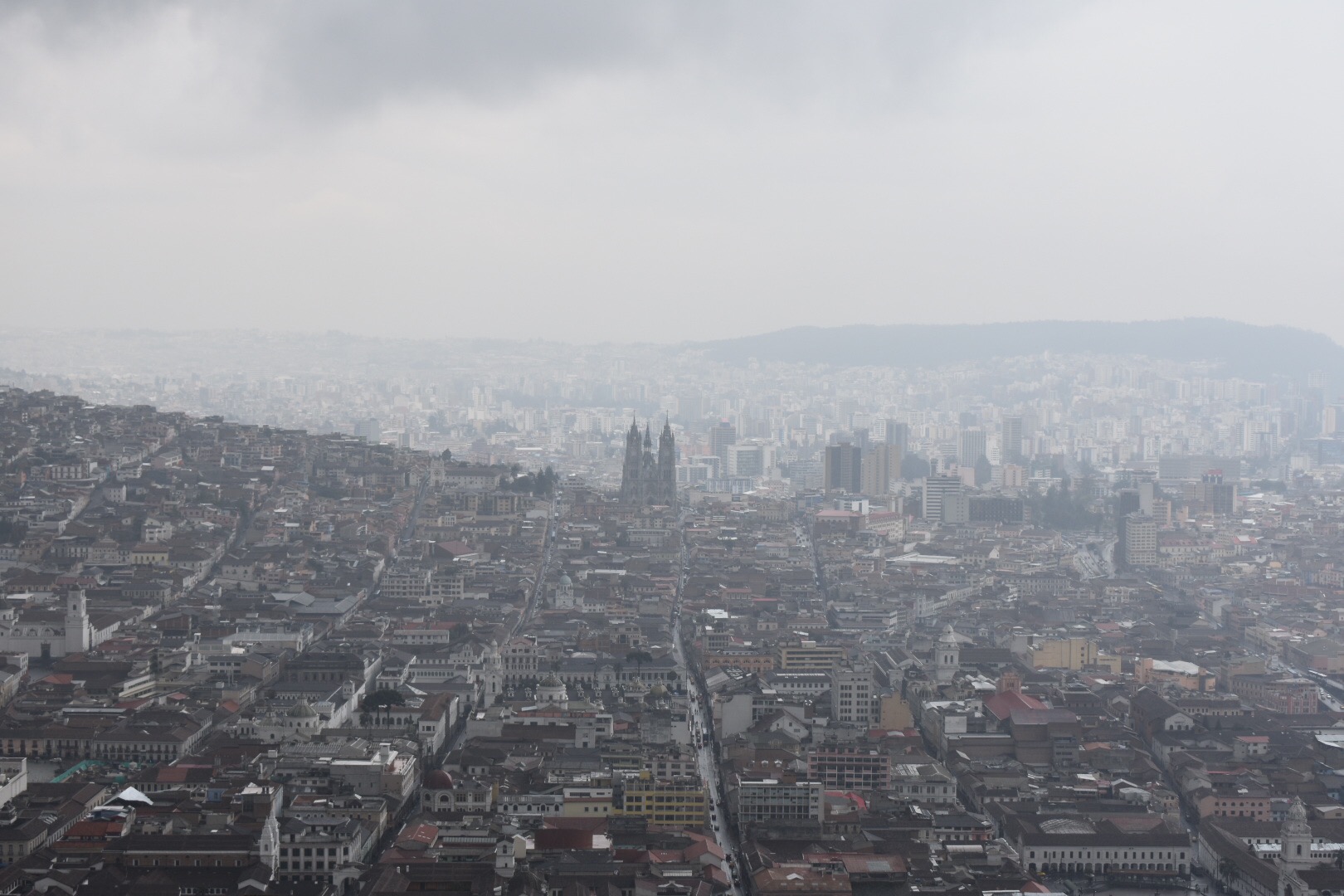 We then returned to the Old Town and commenced our guided walking tour at Plaza Grande, which is dominated by the president of Ecuador's residence and Quito's cathedral. A small group of protesters were gathered outside to (presumably) chant at the president — something about a jury not being properly seated for a trial (according to our guide).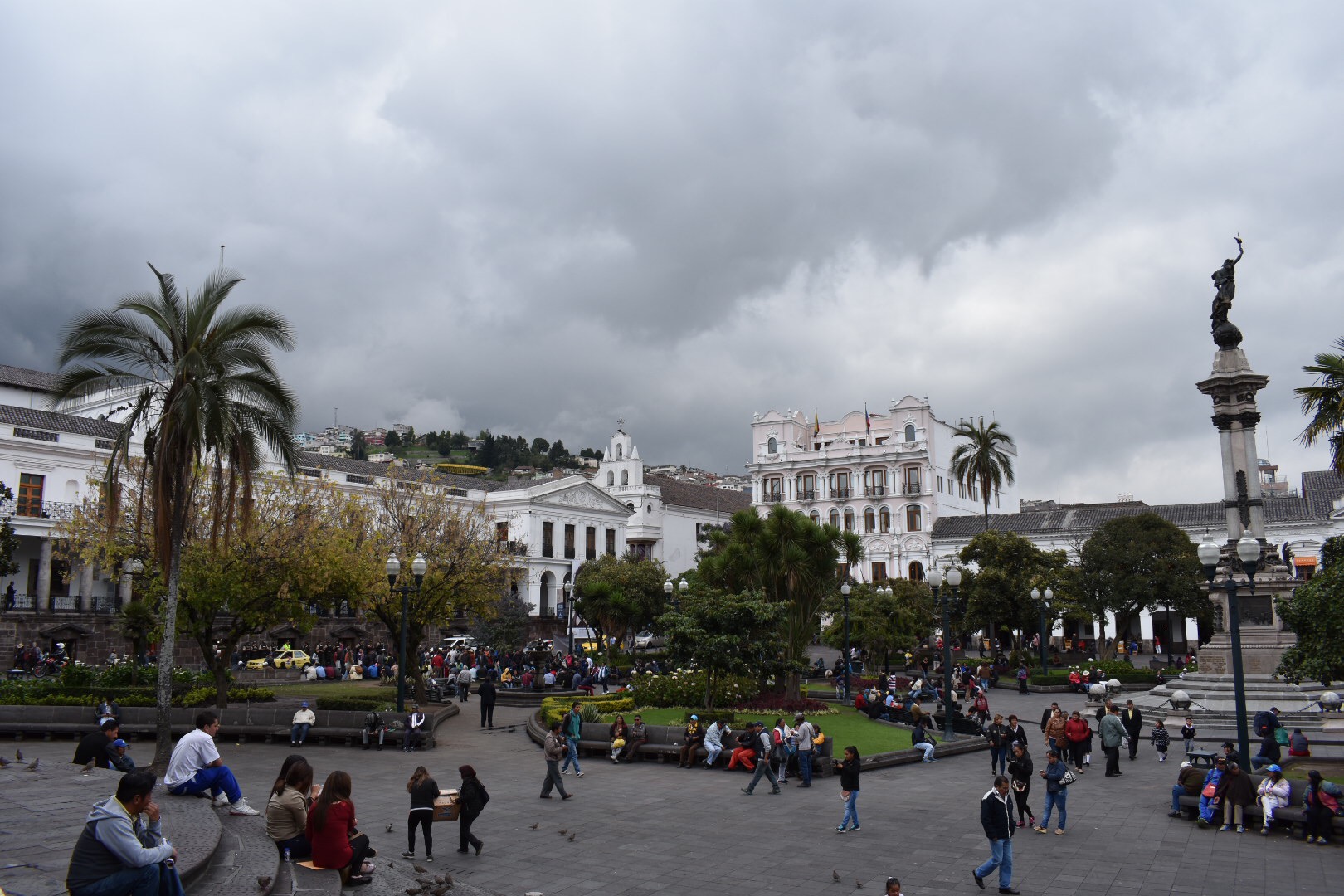 We focused on La Catedral, which contained some of my favorite religious art… ever… anywhere. Of course, we saw the aforementioned Last Supper at which Christ is dining with the apostles on cuy asado (roast guinea pig) and tamales. Awesome! I also enjoyed a classic nativity scene painting that featured a llama in lieu of a camel. Love it! (At the time, the South American artist didn't know what a camel looked like… so, he went with a more familiar animal.)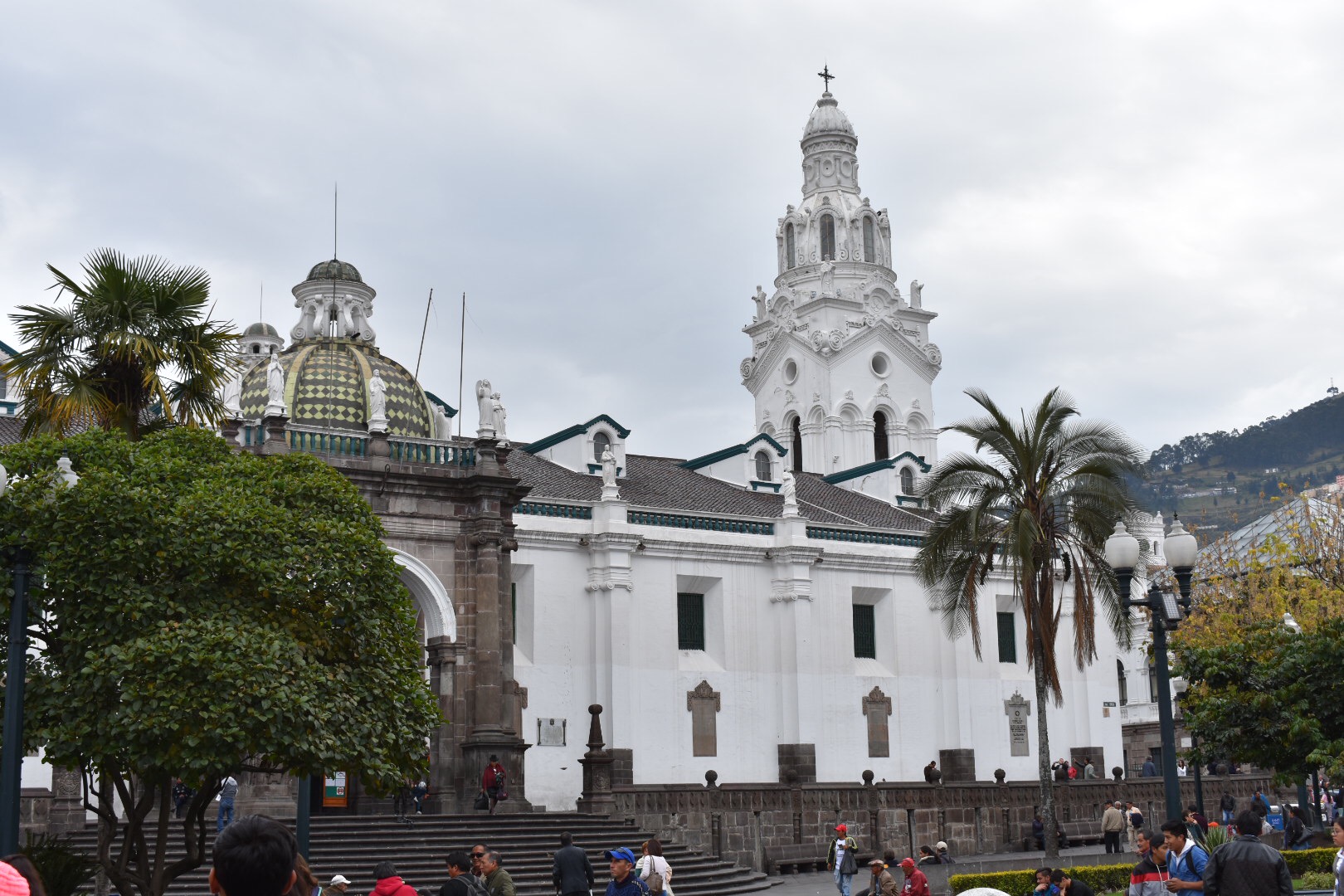 The cathedral tour also featured a large meeting room filled with portraits of the current and former bishops of Quito (many of whom were also princes of the church), as well as a small but beautiful wooden library featuring a variety of old, leather-bound books (including one locked cabinet that was labeled "profane").
From the cathedral, we proceeded to a more humble church next door, El Sagrario. Andres told us this church was used by the "native people" vs. the upper class (Spanish) that attended service at the cathedral. It was more humble but nonetheless nice. From there, we walked along the street until we reached the swoon-worthy Iglesia de la Compania de Jesus.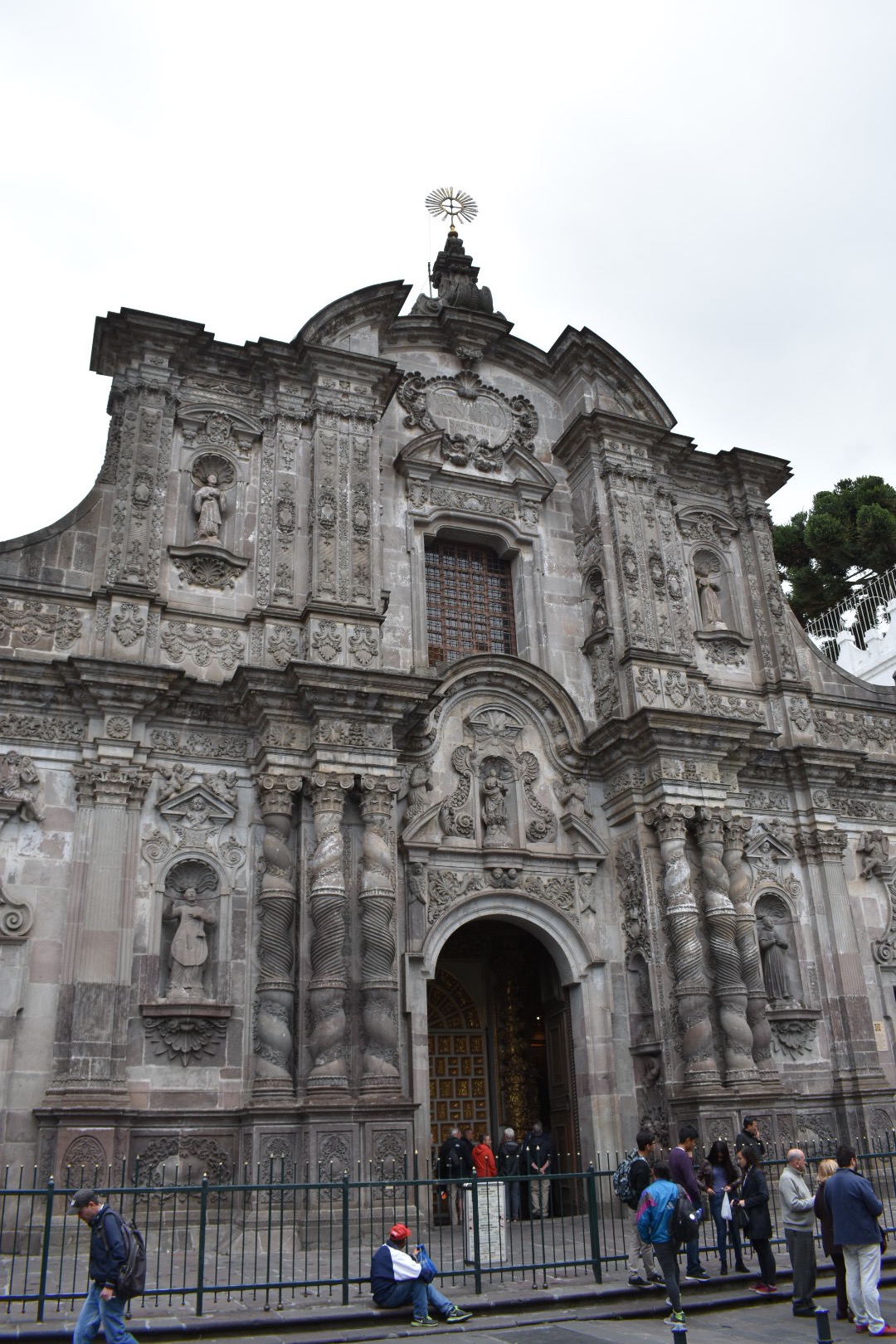 Built by the Jesuits, Quitenos consider this baroque splendor the most beautiful church in the country. It was certainly the highlight of the churches we visited in terms of its beauty. The church is closely associated with Saint María Ana de Jesús de Paredes y Flores, the patron saint of Ecuador, as this is where she is venerated.
It's also associated with another miracle related to a picture, entitled Our Lady of Quito. As I understand it, for a brief period back in 1906 the Virgin's eyes opened and closed, as well as shed a tear. This was witnessed by schoolboys and priests at the Jesuit school. Ordinarily, the original picture hangs over the high alter; however, we found it with our guide in a back hallway (while looking for the banos) prepared for a forthcoming procession. This enabled us to inspect it from just a few inches away — I can't say we were especially moved, but our guide was very excited to witness it in such close proximity.
Following that church, we headed to two more: San Francisco (probably the best facade in the Old Town) and La Merced (seemingly famous for some other saint associated with local miracles). I must confess at some point after a number of churches in a row, they start to run together. We'd reached that point with these churches — no mas — Jesus, Mary, miracles/saints — si, si, si — got it — vamanos.
Rather tired (the altitude wears on one) and not wanting to be out in the streets of Quito after dark (per the advice of our guide), we ate an unremarkable meal at the Marriott, repacked a bit for tomorrow's journey, and went to sleep.