We left our hotel in Quito around 7am, as we were a bit unsure of how long it would take to transit to the airport and make it through the various queues associated with travel to the Galapagos. Traffic wasn't too bad in that direction despite it being "rush hour" (I assume), which meant that we arrived by 8am.
Once at the airport, we paid some sort of $20/pp. transit tax and received our paperwork. Next, we had our luggage inspected for contraband (presumably animals, plants, and other materials that could compromise the ecosystem of the Galapagos) and then sealed shut with little tamper-evident tags. From there, it was a pretty standard check-in and trip through airport security — all of which was accomplished in about 30 minutes.
We had a snack and coffees and waited for our Avianca (AeroGal) flight to Isla Baltra. We flew on a fairly modern Airbus A319. Flight time (non-stop from Quito) was about 1:50 minutes. The take-off and climb out in the Andes were surprisingly smooth, but the flight was lightly turbulent later, which I never enjoy on unfamiliar airlines. That said, the flight was decent overall.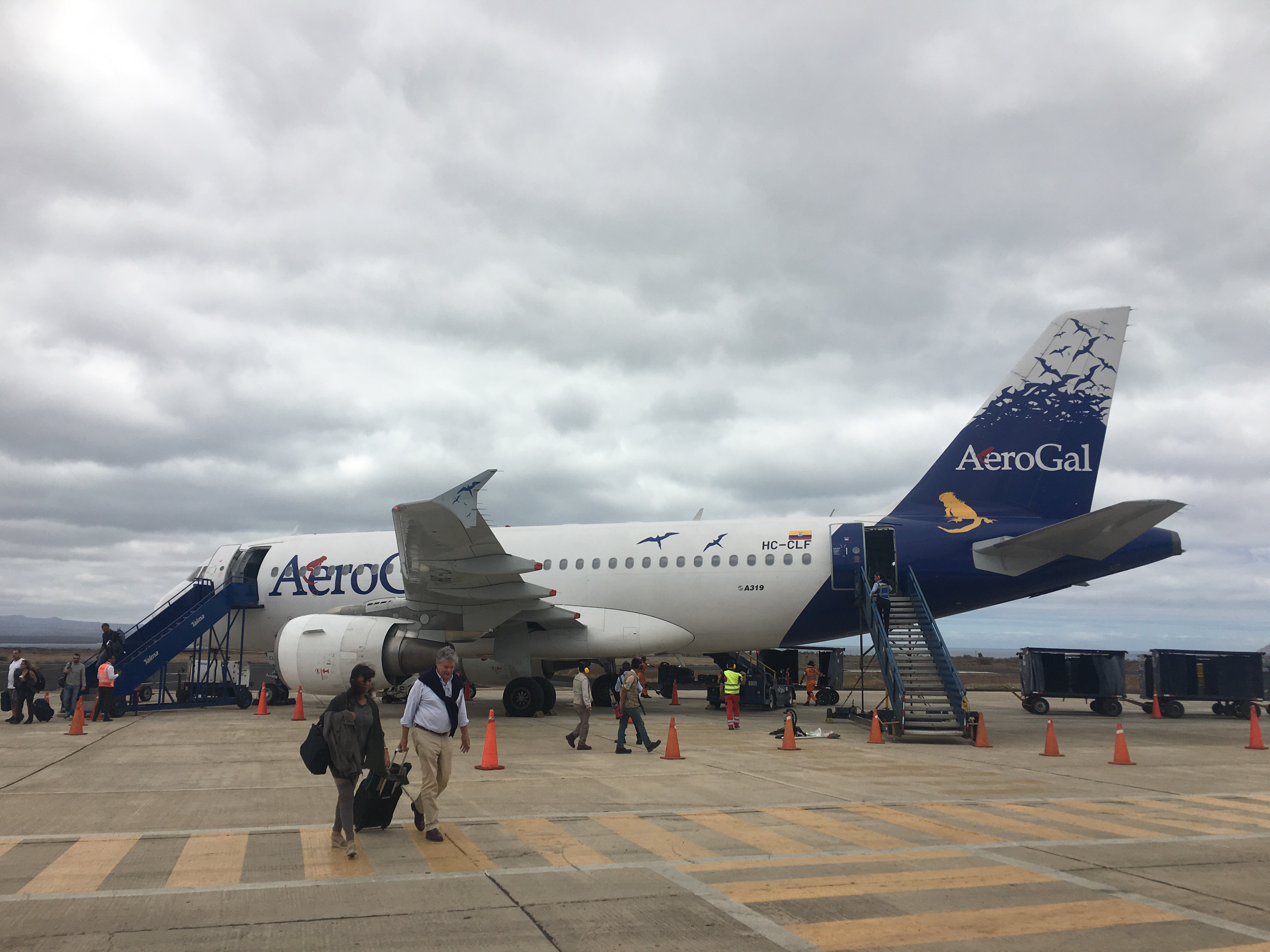 We arrived in the Galapagos a little ahead of schedule. As something entirely new (to me at a commercial airport), the runway lacked connecting taxiways… so, the pilot landed, turned the plane around, and then we taxied back down the runway to the terminal's plane stands. From there, we disembarked using a stairway and were greeted to the world's first ecological airport. We passed through a kind of immigration / visitation control and paid $250 in park entrance fees (Emerson being 50% off) for the three of us. We then collected our luggage and exited the terminal to look for our guide from Guiding Galapagos.
He was late… sigh. But, some other dude told us he'd be there soon. We waited more-or-less patiently, and he showed up 15 minutes later. He collected us and another nice family of five with kids (in their early twenties) for some sightseeing en route to our hotels. But, first, we had to transfer from the island of the airport (Isla Baltra) to the larger island nearby (Santa Cruz). This involved crossing a canal via a small boat (in our case) or ferry (for the fully independent travelers).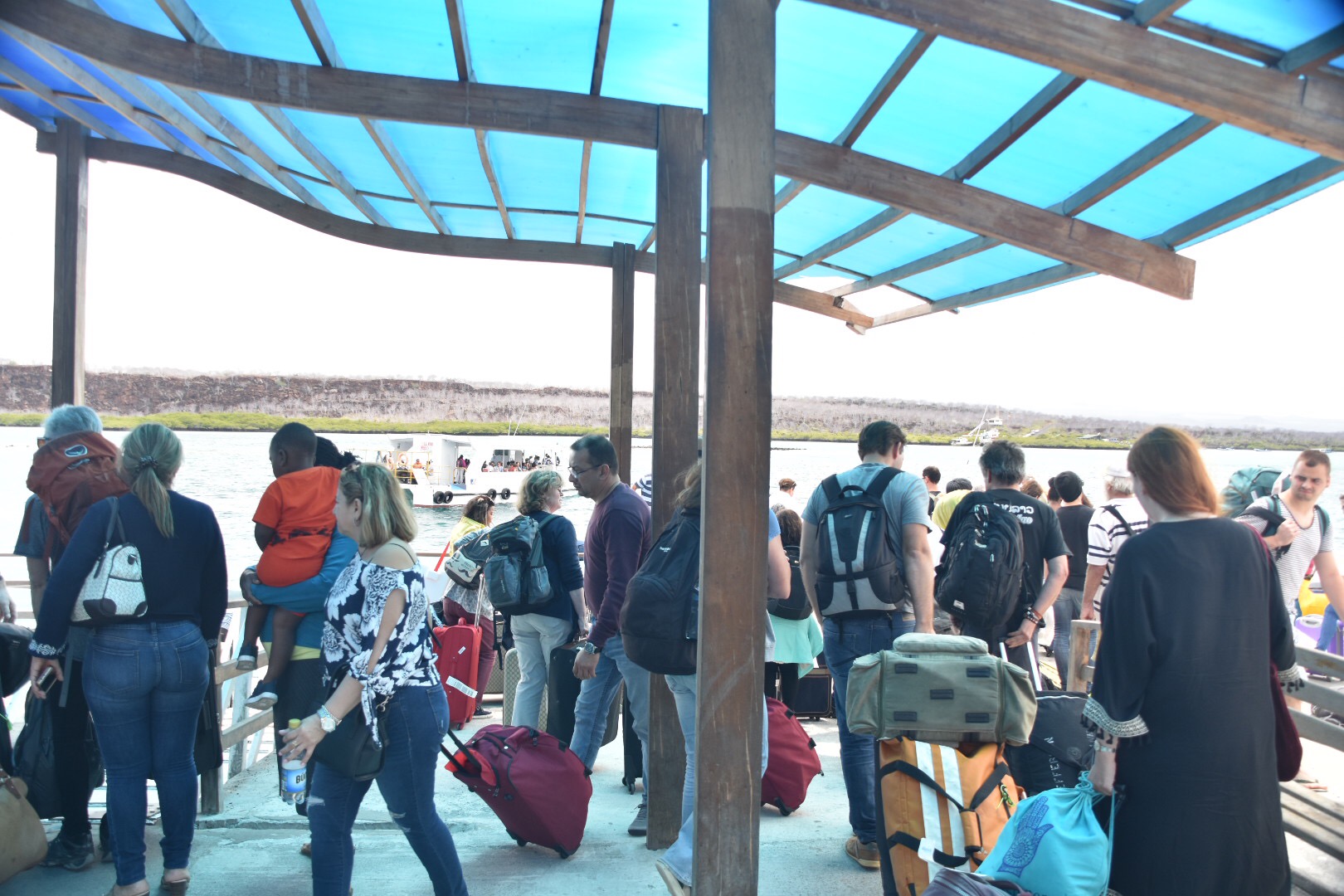 From there, we boarded a spacious mini bus to see three sights: lava craters (basically sinkholes in volcanic rock), giant tortoises, and lava tunnels.
Everyone was excited to be in the Galapagos. As a result, the lava craters and handful of bird species we saw there had a greater sense of magnificence than they likely deserved.
In contrast, the giant Galapagos tortoises are exceptional to see "in the wild" at close range (technically this seeming herd of tortoises were on a private ranch, having wandered over from the public national park). Indeed, it's almost too bad that we saw them on day #1… as it's a bit like going to Disneyland for the first time only to walk in and be greeted straightaway by Mickey Mouse. "Ok kids, we can go home now." After our visit with the tortoises, we enjoyed a nice lunch of either grilled fish or chicken at the ranch.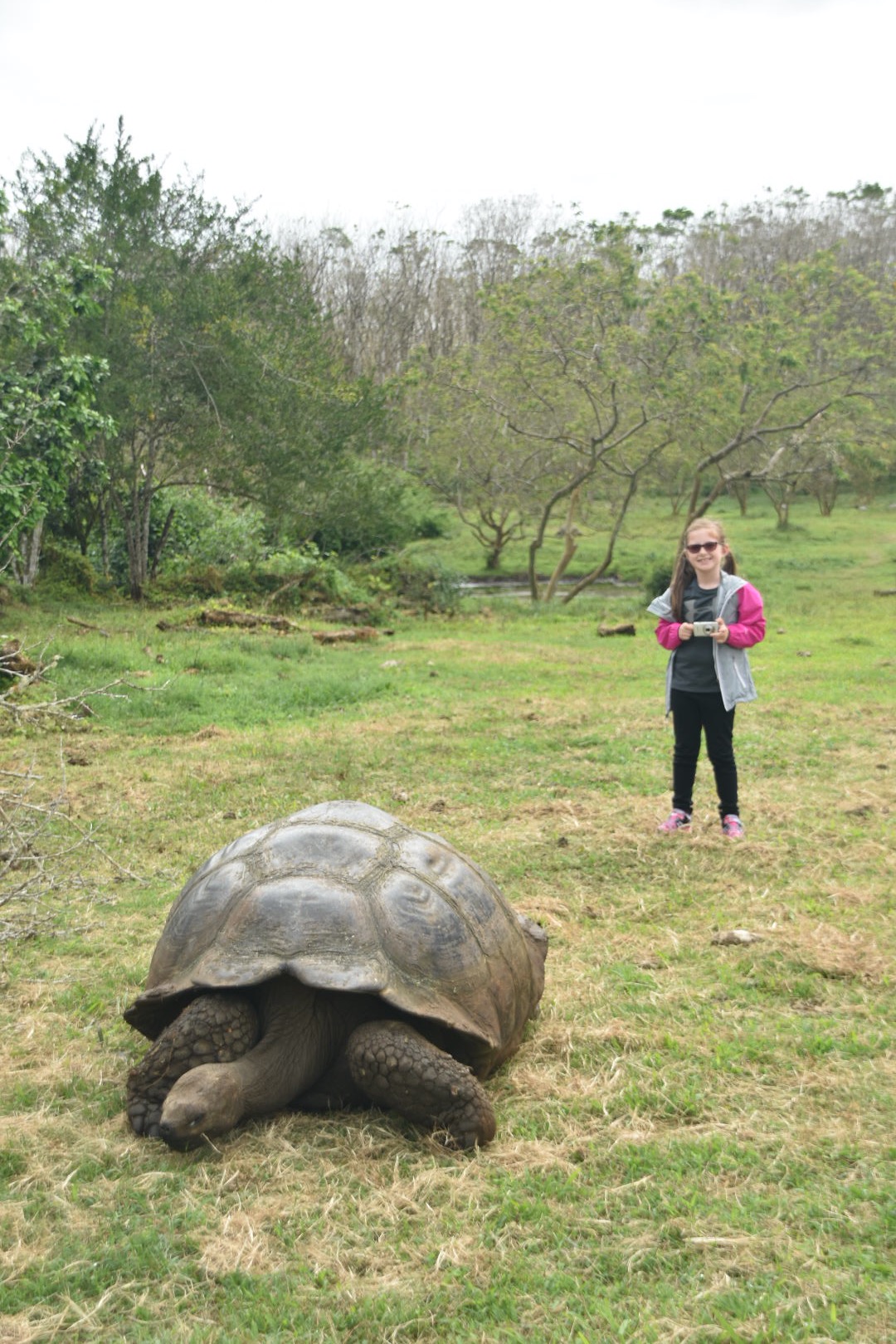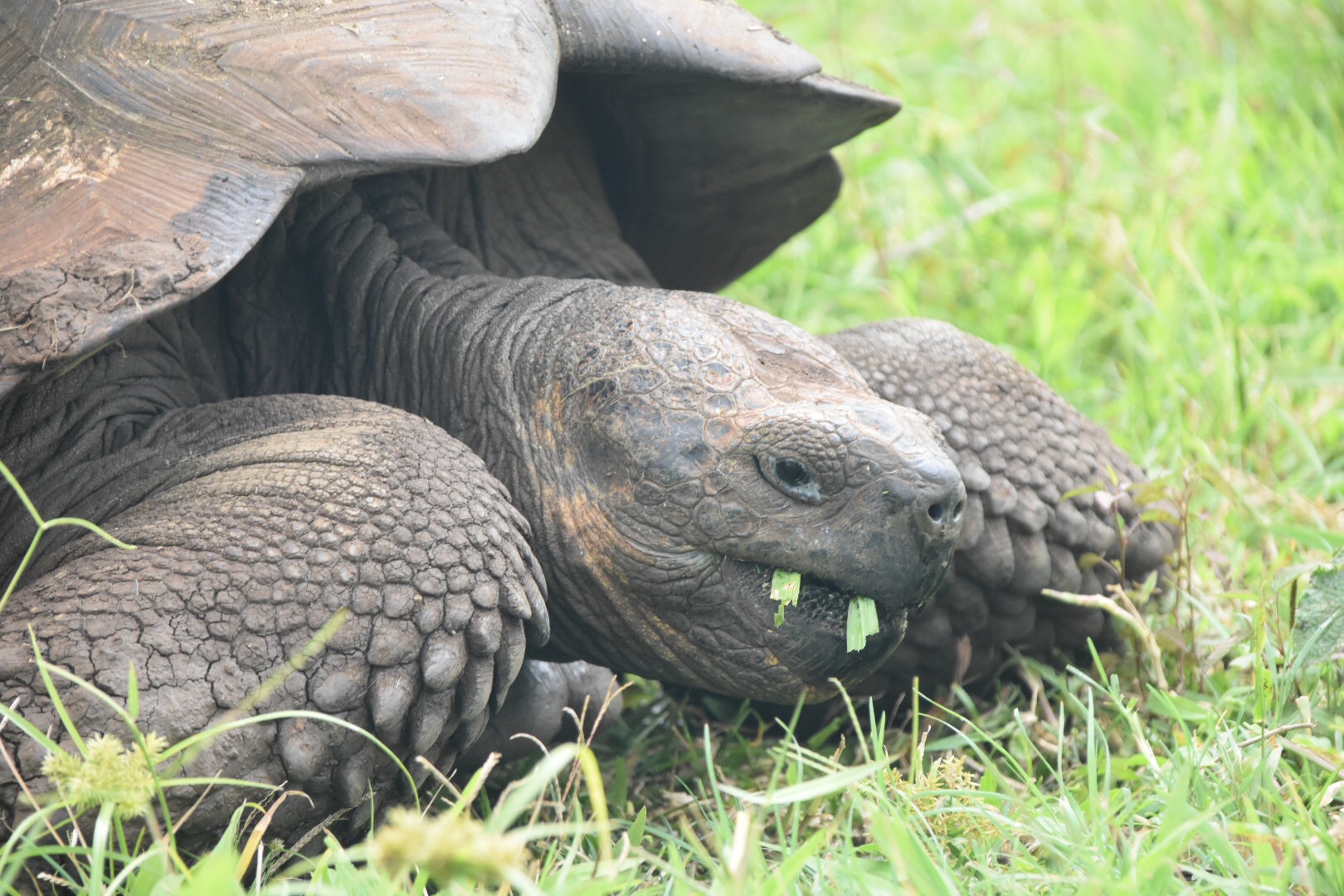 After lunch we went to the lava caves, which you access by descending a fairly steep staircase. The first 200 meters was an easy walk on a level surface through the illuminated tunnel. Then we started reaching loose rocks of various sizes which we had to traverse — it felt a bit precarious (and foreshadowed our days to come) as we're not really "outdoorsy, adventure travel" people. The height of the tunnel began to diminish until it reached a collapsed section not more than 2 feet high, which required most of us to crawl through slug-style. From there, we had to scamper up an incline in a low tunnel of more loose rocks and then up a number of steep stairs to return to the surface of the earth. By this point, I was huffing and puffing, sweating like a pregnant nun heading off to confession, and covered in dust and grime from head to toe. While clearly no great adventure, to me the lava tunnels were both thrilling and annoying… and, on balance, not really worth the effort.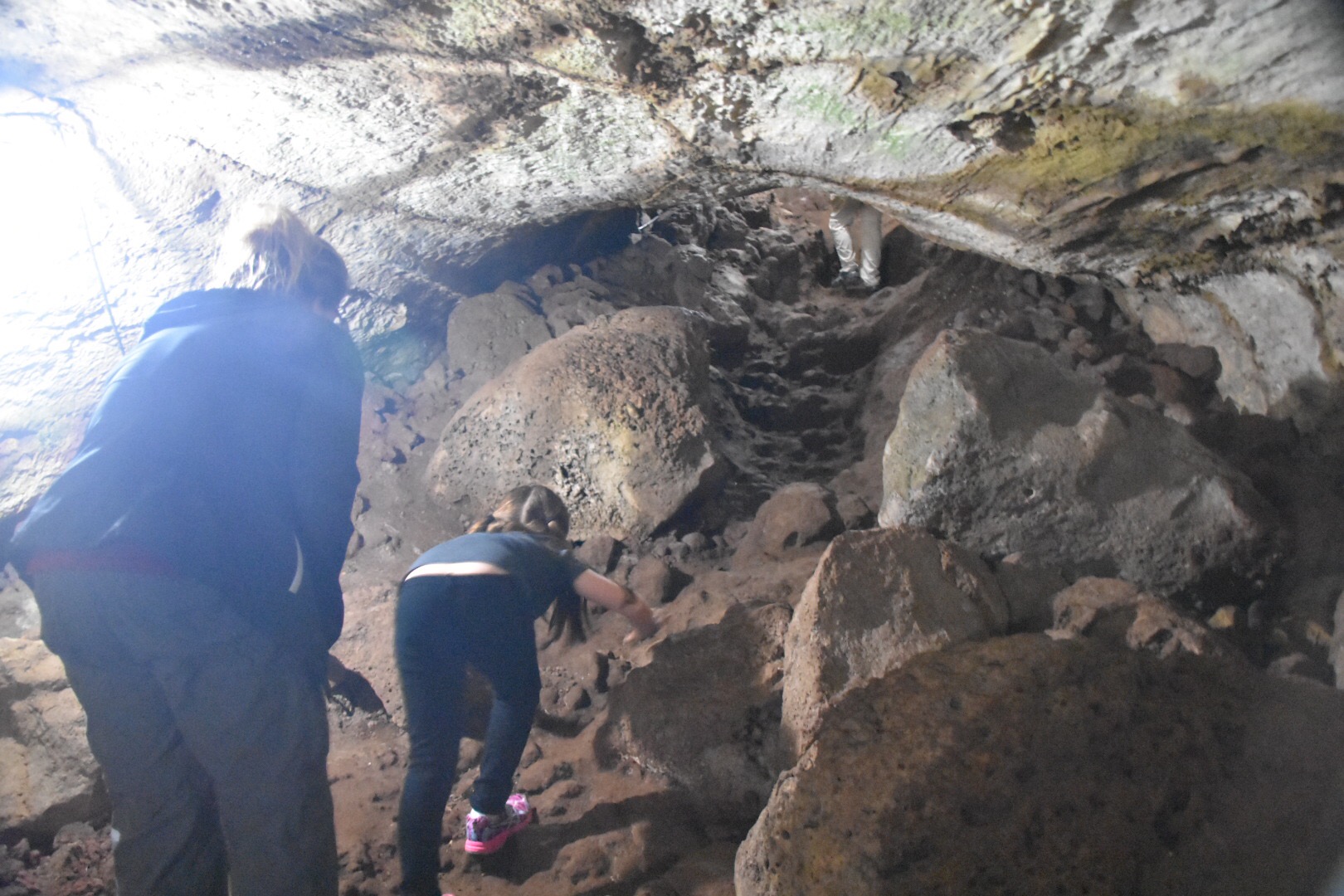 Our sightseeing concluded, we moved on to the Guiding Galapagos office in Puerto Ayora, which is the main town on both this island and in the Galapagos. Lonely Planet says that it looks like a relatively prosperous coastal town in Ecuador. I don't know anything about that having never been to one. To us, it looked more like a Caribbean port on a somewhat less prosperous through perfectly safe island.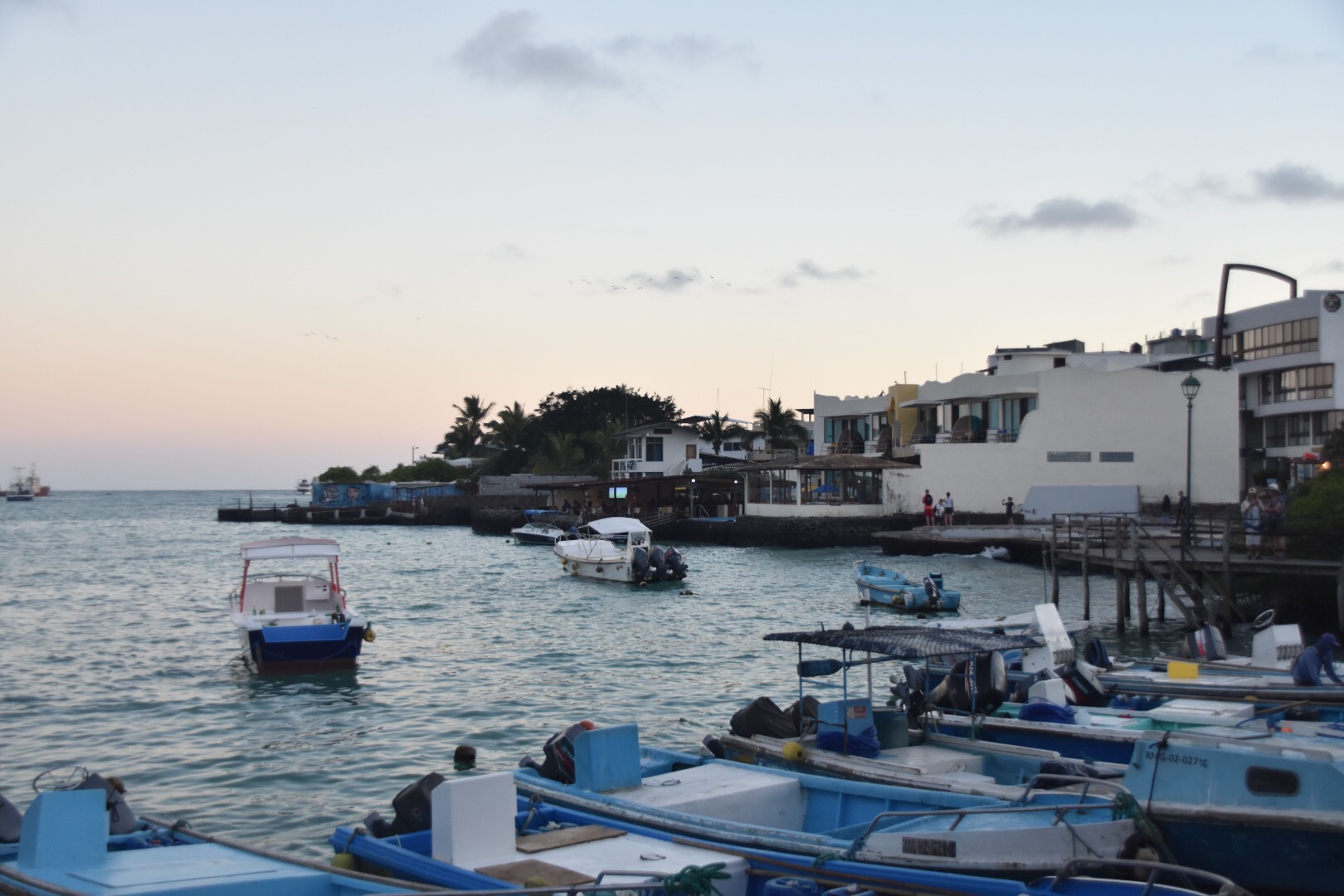 We then spent about an hour collecting our swim / snorkel gear, which made it pretty late (well after 6 pm) when we finally reached our hotel. The Hotel Deja Vu is located on the outskirts of town (fine as the town is rather small). We were given a spacious triple room with sea views and nice balconies (good) on the top floor (bad–no elevator and a few odd steps). The room was clean and comfortable, if a little warm and threadbare. Of course, it didn't help that we were coming from a JW Marriott in Quito, which made for a pretty stark contrast.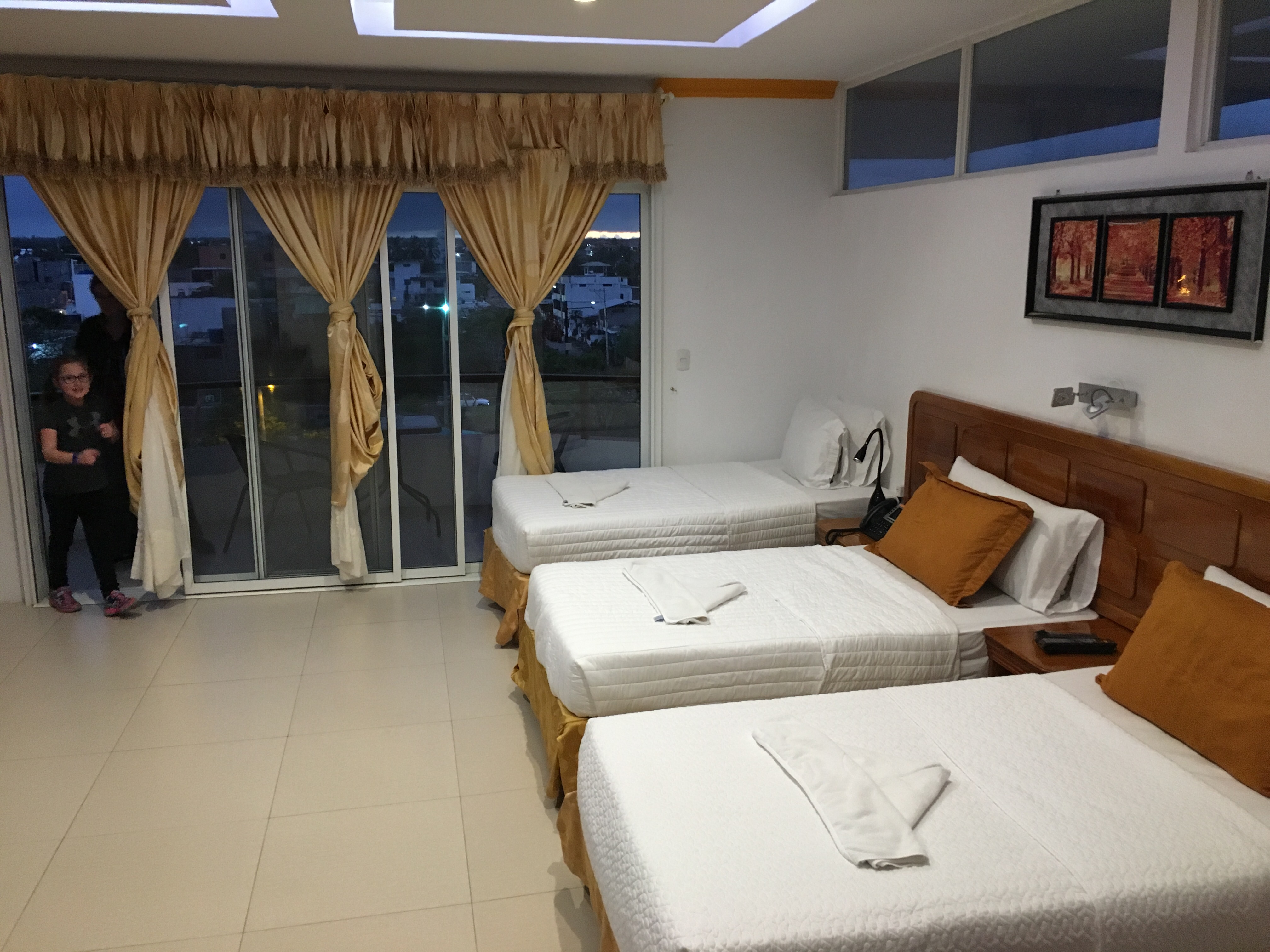 After dropping off our stuff, we went out to dinner at a place called Il Giardino. It was fine though unremarkable, especially as prices were kind of high (relative to the mainland). We found this pattern repeated itself in the local market when we stopped to pick up some bottled water and other supplies.
When we returned to the hotel, I somehow snapped our room's key completely off in the door's lock! Back down to the front desk to try to explain in very bad Spanglish what had happened… Ay, Dios mio! The saga eventually ended when the hapless front desk clerk scampered onto the roof to break in to our room via the balcony door.
Thus ended our first day in the Galapagos…