Ft. Lauderdale, Saturday, 11/18/2017
Today, we left on a plane to go to Quito. The plane that we went on was Jet Blue. We arrived at Quito late at night.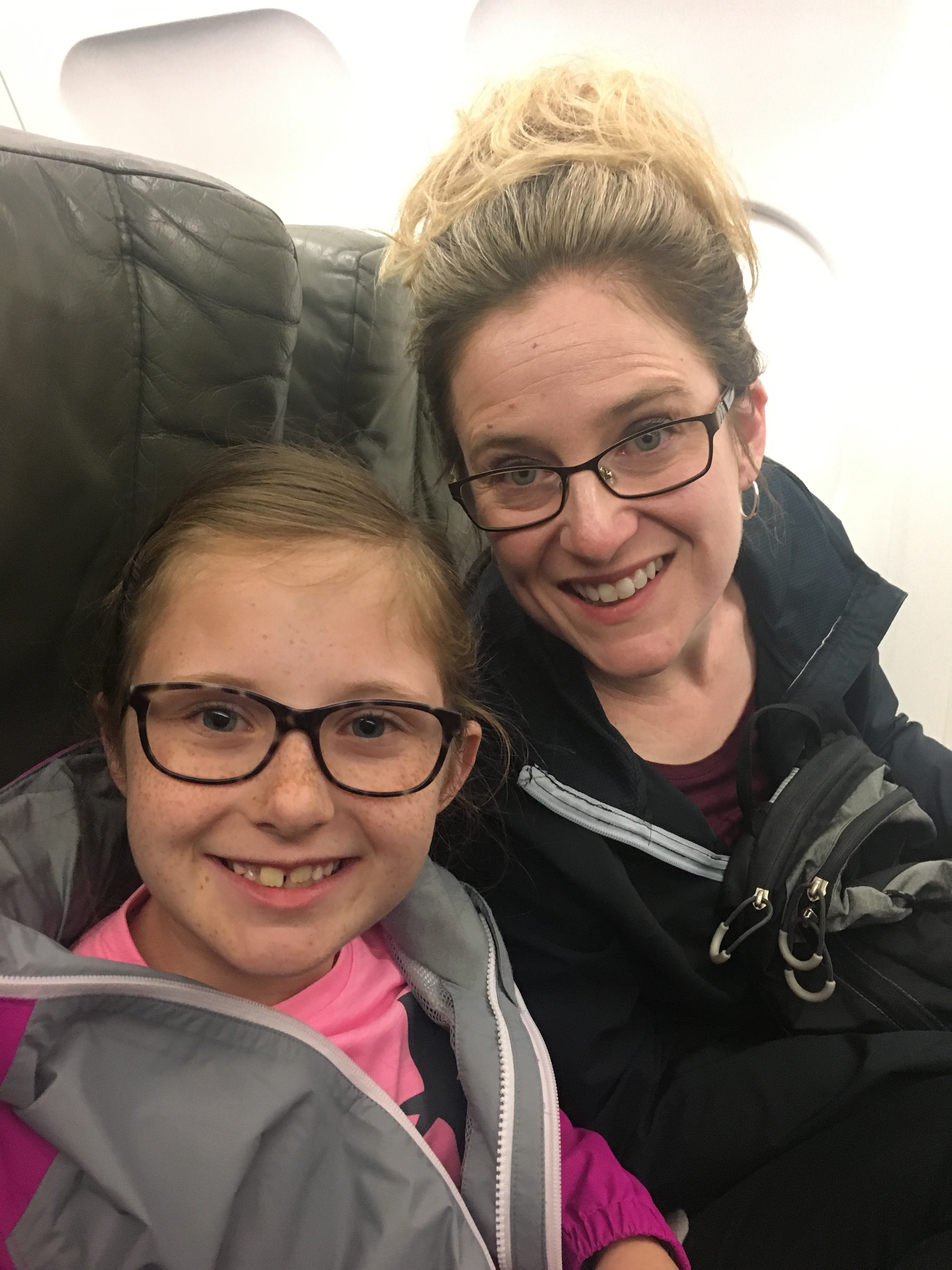 Quito, Ecuador, Sunday, 11/19/2017
Today, we went to the Equator. First, we went to go look into a volcanic crater. It was very cool. If you looked down into the valley, there was a set of stairs to come down the mountain. The stairs looked very steep.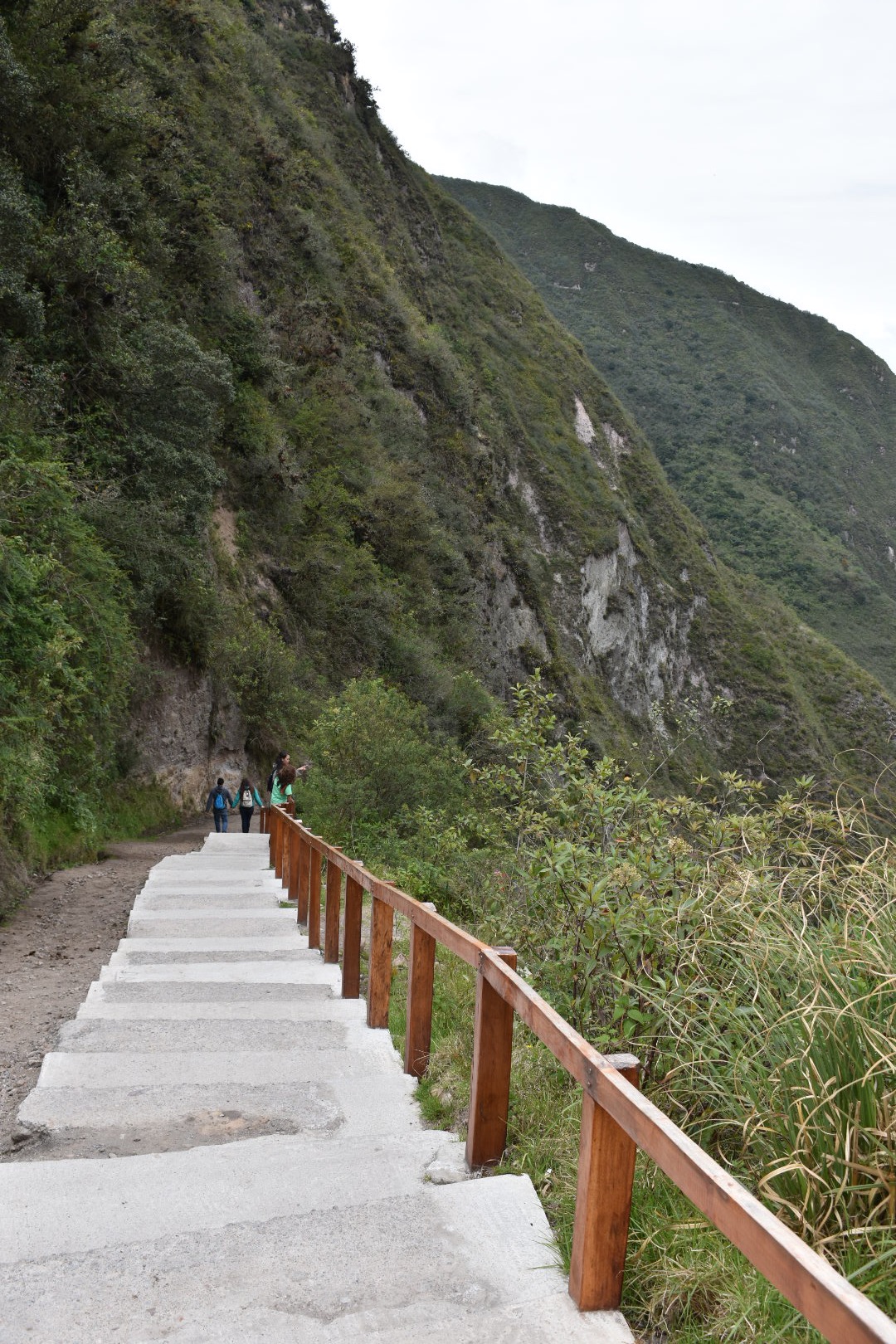 Next we went to an outdoor museum. We saw corn hanging from the tree and that made birds come. Next we went with another tour guide, and we learned about the Amazon rain forest. After that, we went to look at how shrunken heads were made. Next we went to a little house. It was made out of twigs and leaves. After that, we went to see experiments at the equator. We also got to take a picture standing on the equator.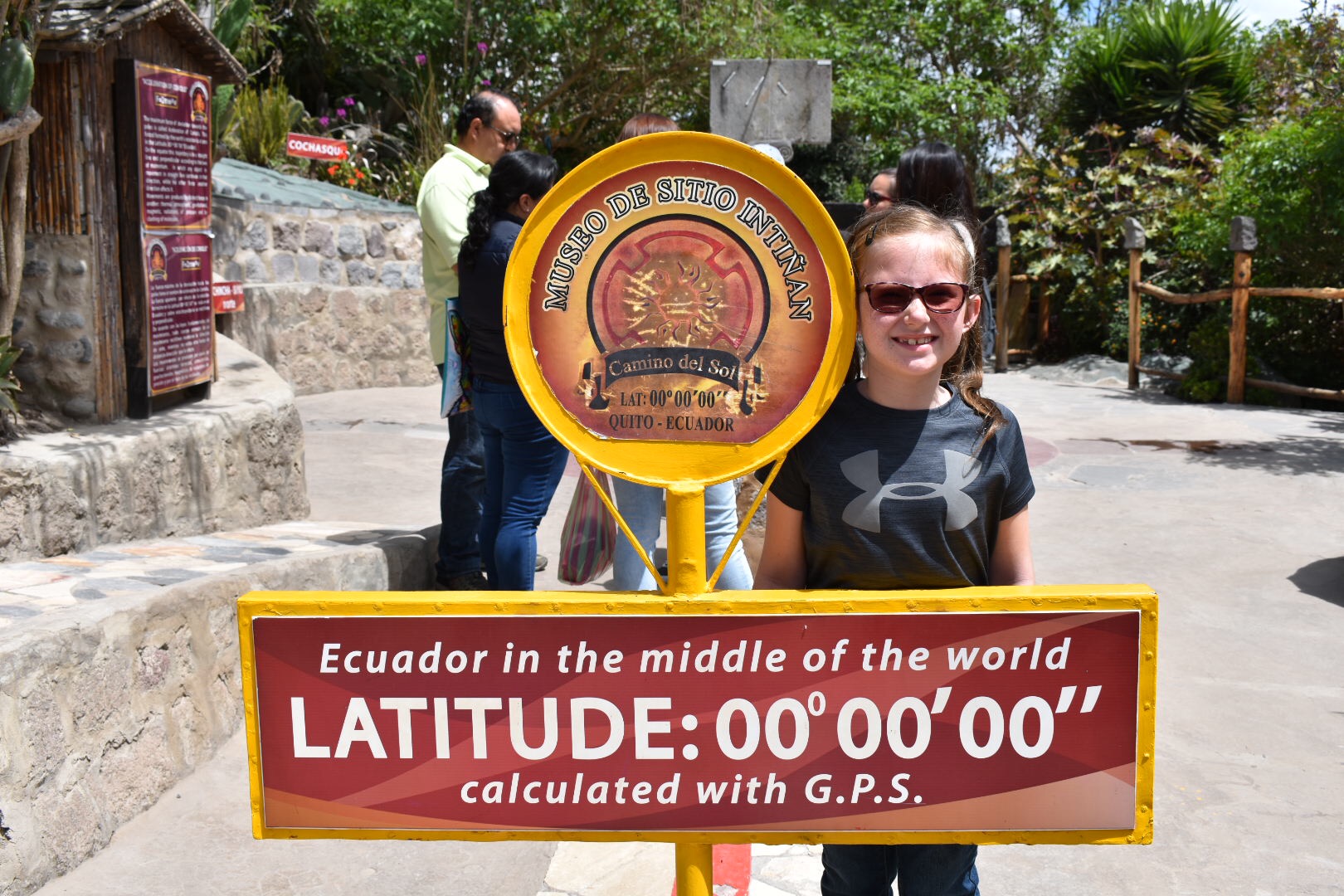 After the museum, we went in the car and drove to the equator monument. At the equator monument there was a show were people danced and sang. And, we went to a little chocolate shop. A fact about chocolate is that white chocolate isn't really chocolate. There was also an exhibit of old things from Ecuador. Then we went to another exhibit about a person who made art. Then we got in the car and drove back to the hotel.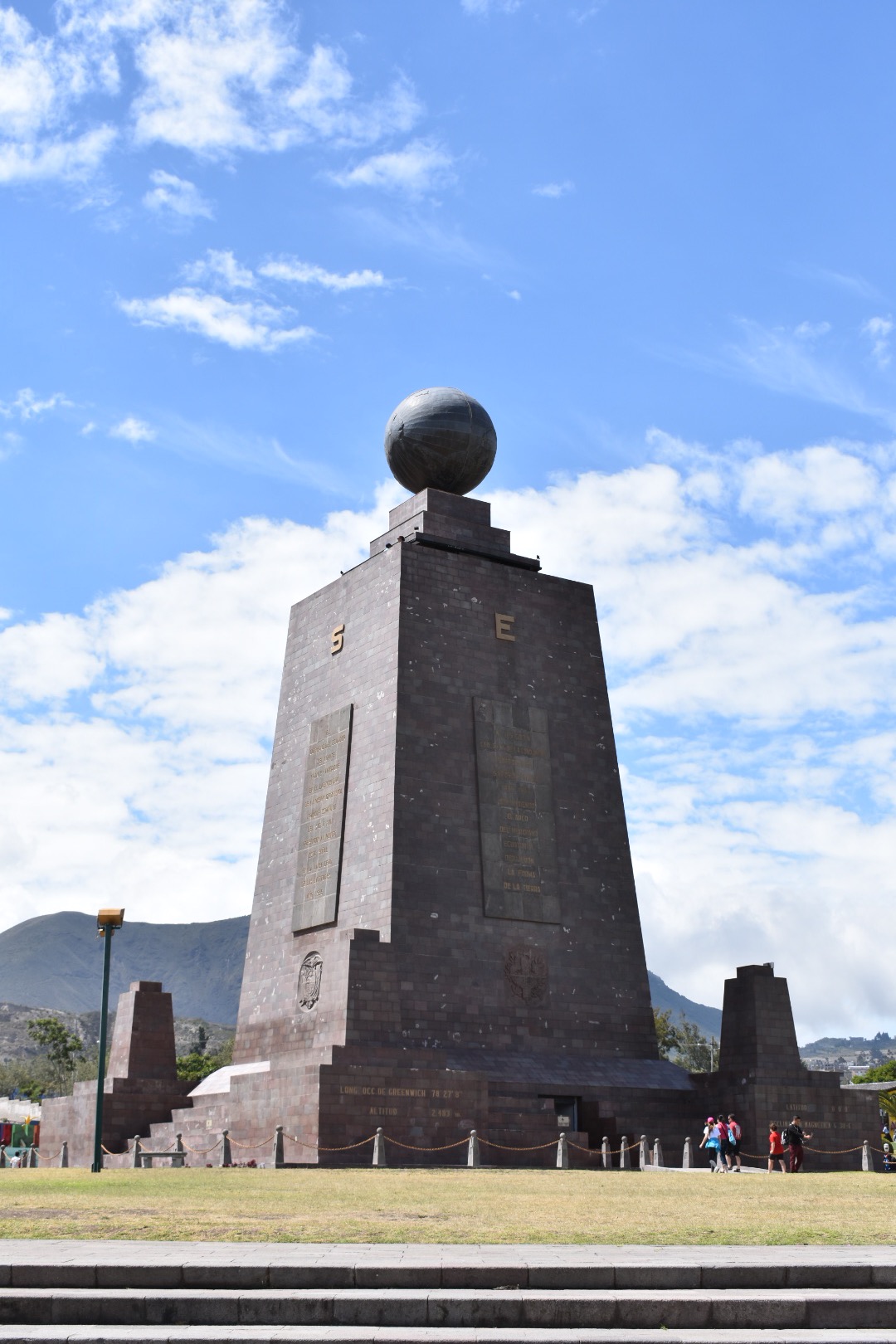 For dinner we went to a restaurant called Crepes & Waffles. I had a Mexican chicken crepe. For dessert, I had an ice cream called "Gummy" and then we went back to the hotel.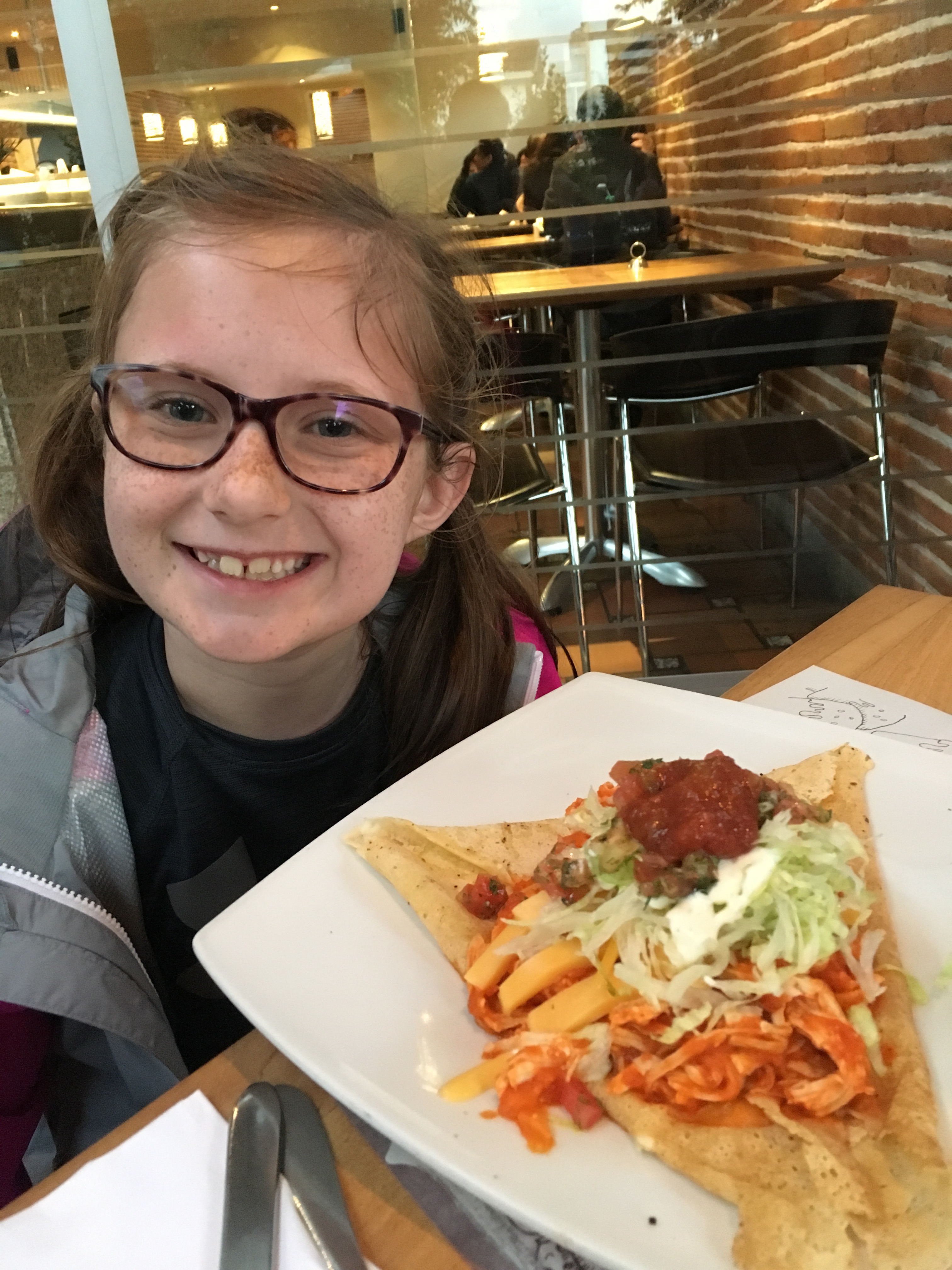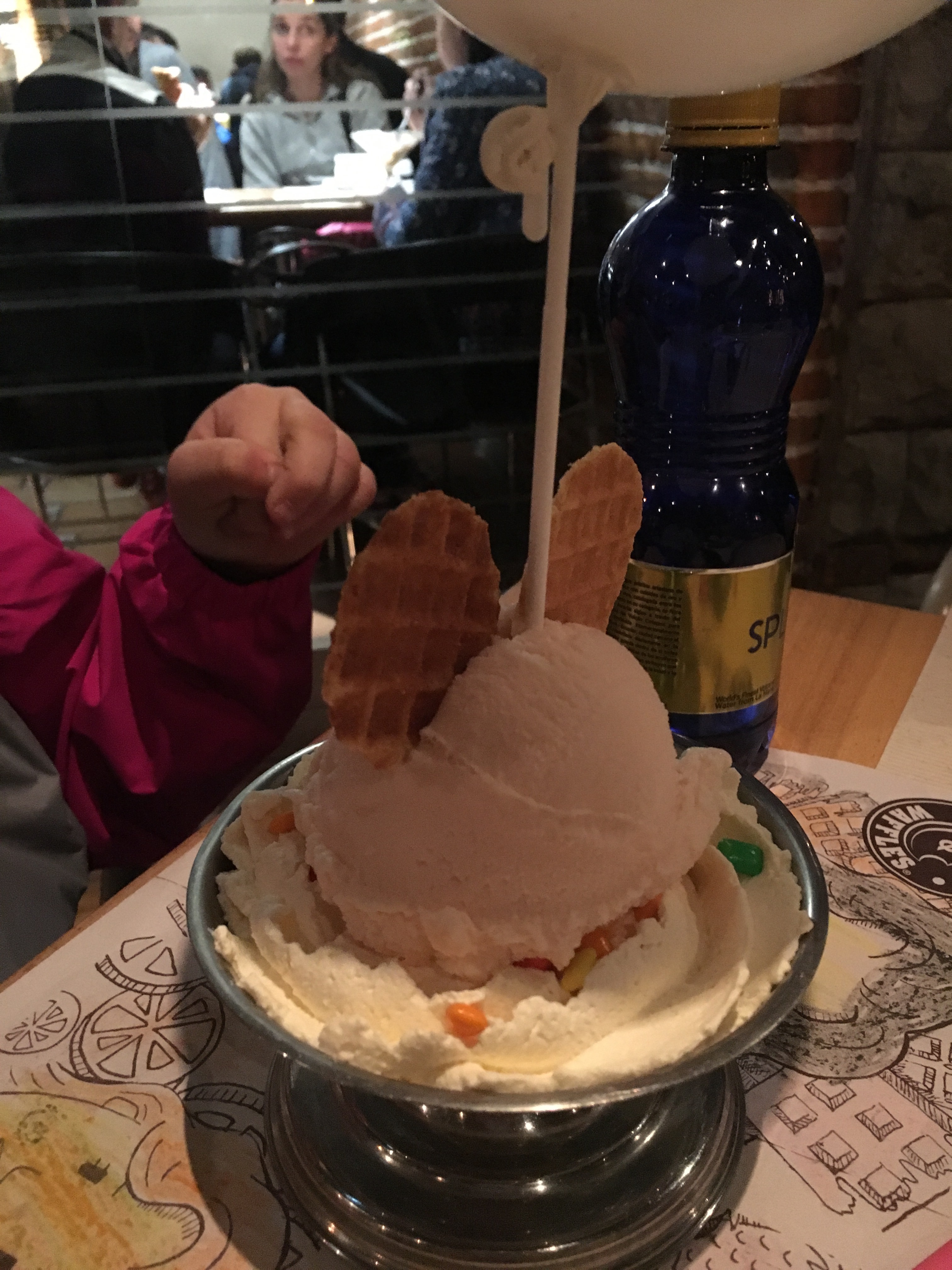 Quito, Ecuador, Monday, 11/20/2017
Today, we went to the Old Town. At the Old Town, we went to lots of different churches. The first church we went to had animals instead of gargoyles on the outside: tortoises, dolphins, anteaters, and crocodiles. Some of the churches were very old with squeaky wood floors. In another church, there was a painting of Jesus eating a guinea pig. I liked it because I like seeing pretty churches.
Galapagos, Ecuador, Tuesday, 11/21/17
Today, we went on a plane to the Galapagos. The first thing we did at the Galapagos was meeting up with our tour guide and going to a tortoise farm. At the tortoise farm, we saw lots of ginormous tortoises. After that I put together the plates on a tortoise shell and then I crawled inside the tortoise shell. The shell was a lot bigger than me!
After that, we had lunch. I ate grilled chicken and white rice. I liked it. And for dessert, I had flan. I liked the flan too.
After that, we got back on the bus and drove to a lava cave. When we went to the lava cave, the first part was a little rocky. Then it got rockier. We had to crawl under a big chunk of rock. And then I climbed back up the stairs to land. My hands were so muddy!
That night we went to The Garden for dinner. For dinner, I had pasta with tomato sauce.
Galapagos, Ecuador, Wednesday, 11/22/17
Today we went on a boat ride to North Seymour Island. At the island, I saw blue-footed booby birds, seal lions, frigatebirds, and land iguanas. After that, we got back on the boat and went to the snorkeling spot. At the snorkeling spot, we went on a little trail to a lagoon to see flamingoes, but we didn't see any. Then we went in the water, and we snorkeled for a while. While we were snorkeling, my daddy saw something that looked like a pufferfish. I liked snorkeling a little but I'm afraid of harmful sea animals.
Galapagos, Ecuador, Thursday, 11/23/17
Today we went to a beach called Tortuga Bay. When we got to the beach entrance, we had to go on a very long walk. Then we got to a very big beach, but we couldn't swim there because a red flag was out. So, we looked a little more and then saw a couple of marine iguanas. And then we got to another smaller beach with calm waters. So we swam there. While we were swimming, we saw a couple of marine iguanas swimming in the water too. I also drew a picture in the sand.
After that, we had to get on the boat, and we climbed over very dangerous lava rocks. When we were almost to the boat entrance, there was a big space between the rocks. My daddy jumped to the other side, but it was very dangerous. So, he came back, and we walked back to the hotel. Since it was Thanksgiving, I was very thankful that Daddy did not fall.