After our late arrival last night, we got a little bit of a later start this morning as well. Libby and Emerson headed to the breakfast room ("free"–a £13/pp. value–due to my Marriott status), while I arranged to get our room switched (as the accessible shower was utterly impractical without any glass surround). I then joined the girls for breakfast.
After breakfast was over, we headed out into the city for the day. The weather was by any standard gorgeous: mild temperatures (warm for Scotland) and a cloudless sky. We walked up Princes Street in New Town and then came up the hill behind Edinburgh Castle.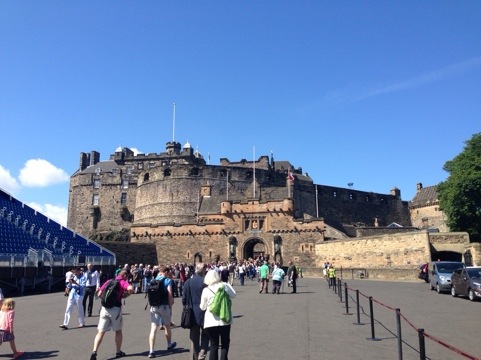 We'd planned on visiting the castle properly, but the queue was rather long. So, we headed down the Royal Mile, exploring sights along the way, including having a snack in a very elegant cafe: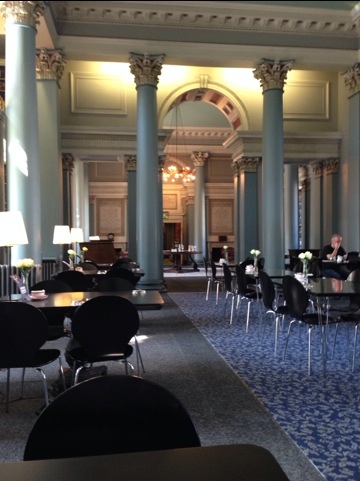 We visited St. Giles just in time for morning services to end. It's an attractive church, though relatively modest in size and of an odd configuration. Indeed, the pastor literally is "preaching to the choir" instead of the better part of the congregation. Although, on this Tuesday morning, he was mostly preaching to himself.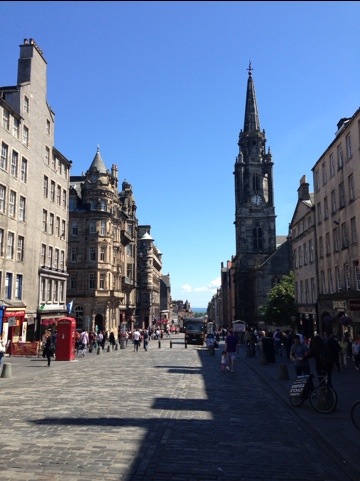 We continued along the Royal Mile to down to the Palace of Hollyroodhouse. Our plan was to tour it, but alas the queen was in residence. Just who does she think she is?

Having our plans foiled, we headed back to New Town. This actually worked out ok, as Emerson was tired from her shortened sleep the night before. We gave her a nap and went to Nando's for dinner (located just around the corner from the hotel).
All in all, today was a good but not great day. My first impressions of Edinburgh? It's alright… I like it well enough, but I don't love it. And, I'm not really sure why. It's fairly attractive and evocative, but it doesn't stir my emotions or capture my imagination as some places do. Libby feels the same way having been here before (and I suppose it's somewhat telling that she didn't rush to return here sooner).
Of course, our travel impressions may be fickle. We didn't like Salzburg on our first trip there, but we loved it on our second visit (which only happened because it was a convenient waypoint). Likewise, some places that aren't even that inherently nice strike the right cord. Given that, impressions of places seem to be influenced by mood and expectations almost as much as anything else.